I started this section of BillyBob's Garage back when I was looking for access to a garage in which to carry out BillyBob's restoration, and the first step was research while I hunted for a suitable operating theatre. During the process of re-building BillyBob under the shadetree, I continued finding lots of TRUCK LINKS including vendor sites for old parts, custom parts, and tools as well as sites for classic car and truck organizations. This "Links" page became one of the most popular pages in BillyBob's Garage. Updates trickled out in 2011 due to underfunding. I'm beginning to roll again in the BillyBob Shop so I'll see what I can do to keep it more up-to-date (but no promises).
VENDORS
AARON'S SCREWDRIVERS
http://www.aaronsscrewdrivers.com/default.htm
Screwdrivers, insert bits, power drive bits, bit holders, adapters, hand drivers and tool sets in Phillips, slotted, Torx, Pozidriv, Hex Socket and Square Recess. We also have Sel-O-Fit, Frearson, Clutch Head, Torq-Set, Tri-Wing, Hi-Torque and Triple Square insert bits and power drive bits. Hard to find items our specialty. Shopping is easy and delivery is fast.
I have not purchased from this vendor, so I cannot offer recommendations, good or bad.
ACCESSIBLE SYSTEMS INC
http://www.accessiblesystems.com/
The company's mission is to make your vehicle accessible, so you can do whatever repair and restoration work is needed. The first Bottoms Up Lift was sold in 1988. It created the marketplace for restoration rotisseries and is the leading seller today. The Easy Tilter, which is patent pending, allows easy access to the bottom of a 6000 lbs. vehicle.
I have not purchased from this vendor, so I cannot offer recommendations, good or bad.
ADLER'S ANTIQUE AUTOS
http://www.adlersantiqueautos.com/
Vintage Chevrolet Parts, Sales, Service, Knowledge from the Author of "Notes from the Corrosion Lab" in Vintage Trucks Magazine.
I have not purchased from this vendor, but I can say that he has one of the best reputations in the old truck hobby circles and that I would not hesitate to purchase from Bob Adler in the future.
ADVANCED DESIGN ENGINEERING
http://www.ad-engineering.com/
Our newest product is the S10 frame swap kit for installing a late-model S10 complete chassis under a 47-54 Chevy/GMC truck. Our kit is designed to be a low cost alternative to all the high dollar IFS front suspension kits and 4-bar or replacement leaf kits. Our kit is also a better alternative than grafting on a Nova or Camaro front clip. Why continue using a 50+ year old frame that is waiting to fail. By using the complete late model S10 chassis, there is very little cutting. No need for high tech facilities or substantial skills either. Just head to the junkyard for a LONG BED STANDARD CAB 2WD S10 rolling frame, add our kit and you have a rolling hot rod in one weekend!
I have not purchased from this vendor, so I cannot offer recommendations, good or bad.
ALDEN CORPORATION
http://www.aldencorporation.com/
"If the frustration of removing broken bolts and screws is your problem . . . " Alden Corporation is a family-owned company established in 1990 by Yvon Desaulniers. It manufactures professional quality products, DRILL-OUT Power Extractors.
I have not purchased from this vendor, so I cannot offer recommendations, good or bad.
ALLENS FASTENERS
http://www.allensfasteners.com/
Chrome Bolts, Stainless Steel Bolts, Metric Bolts, Socket Head Cap Screws, Grade 8 Bolts, F911 Bolts. We also sell Batteries, Battery Boxes, Abrasives, Body Clips, Chassis Tabs, Brass Fittings, Chemicals, Clamps, Cotter Pins, Dowel Pins, Clevis Items, Drills, E-clips, C-clips, DZUS Fasteners, Electrical Connectors, Fuel Gauges, AN Fittings, Gaskets, Key Ways, Key Stock, Motor Mounts, Trans Mounts, Nutserts, Paint, Pop Rivets, Retaining Rings, Rod Ends, Roll Pins, Spark Plug Wires, Taps & Dies, Tools and More!
I have not purchased from this vendor, so I cannot offer recommendations, good or bad.
ALUMILITE CORPORATION
http://www.alumilite.com/
Reproduce practically anything using Alumilite's Silicone Mold Making Rubber and amazing Casting Resins. Alumilite is your single source for all of your mold making and resin casting needs.
I have not purchased from this vendor, so I cannot offer recommendations, good or bad.
AMERICAN CLASSIC TRUCK PARTS
http://www.americanclassic.com/
We can supply all available parts for Chevrolet and GMC trucks from 1936 to 1972.
I ordered re-built gauge cluster with 12 volt conversion and a re-built speedometer to match in June 2000. It took about a month to arrive and, tho' expensive, the gauges are beautiful. My credit card was not charged until the items shipped. The engine end connector of the water temperature gauge capillary tube appears to be too large for BillyBob's 235 CI head but I won't get around to installation for some time. I will report then on results. I've also ordered and received 2 of their Grille Fastener Kit 54-55, Heavy duty voltage reducer, pair terminal blocks, Turn Signal Lever, Flasher, Starter Boot, Starter Return Spring, Braided Ground Strap, Left and Right Taillight Brackets, and License Bracket Assembly. I've been happy, in general, with the quality of the parts and with the exception of that first order, all parts have arrived within a week or two of the order date. Update 11.28.2001 The gauge clusters were installed over Thanksgiving and I am well pleased. After the adapter was removed from the water temp capillary tube connector, it fit the 235 perfectly.
I've also obtained a used brake master cylinder rod and clevis, used left and right vent window assemblies, and Goodwrench steering gear lubricant (which has been discontinued by Chevrolet), (2) Ballast Resistors, Generic Ignition Switch w/Lock Cylinder and 2 Keys, (2) 12v voltage regulators, regulator mounting kit, Windshield Wiper Arms (stainless), Used Wiper Transmission Arms, 51-55 Outside Mirror Arm Left Chrome, Gasket, Stainless Steel Mirror Arm Screws & Nuts, and 36-72 Outside Mirror 5" Round Chrome, Used 16" Wheel (as is), Battery Hold-Down, (24) Lug Nuts, (2) Hub Grease Caps, S/S Tailgate Chains, (6) Hub Cap Clips, 51-66 Brake Line T Block, (2) 47-59 Clevis, Pin, Cotter Key Sets, (3) 47-59 Pedal Pads, (2) 36-59 Brake Cable Boots, 54-55 Chevy Hood Emblem Decal Kit, 54-55 Gasket - Hood Emblem, and 55 Hood Side Emblems 1st Series, H/L Bucket-Fender fstnr Kit, 47-57 Gaskets Headlight pair Housing to Fender, 47-55 Fender Braces Front Pair Rod Type, and 47-55 Fender Brace Front Left and Right Used, (2) 50-55 Front Shocks, 50-55 Rear Shock, 34-55 Spring Shackle Rear Kit, 47-55 Spring Shackle Front Kit, Pr 37-55 Emer Brake Gaskets, 47-55 Park Brake Flr Seal, 52-55 Park Brake Release Rod Grommet, 47-55 Park Brake Flr Boot, Pr 47-55 Emer Brake Cables, Pr 36-59 Brake Cable Boots, and Pr 36-59 External Oil Filter Lines (14" and 18" with fittings), Spare 62-75 Voltage Regulator, 63-72 Alternator Plug w/pigtail wires, a reconditioned 54-55 Vacuum Wiper Motor, Spare 37-59 Speedo Cable Metal Case, 34-59 Left & Right Tie Rod Ends (Modern Type), 55-67 U-Joints (2), 1 ea 54-55 Left and Right Dash Defrost Vents (used), 38-70 Locking Chrome Gas Cap, 54-55 Glovebox Cardboard, (2) 54-59 Glovebox Striker & Screws, (2) 36-87 Pair Glovebox Door Bumpers, (2) 54-72 Glovebox Lock Gasket, (2) 54-72 Glovebox Lock Retainer, (2) 36-72 Glovebox Screw Sets, 54-55 Engine Valve Cover Decal, 54-62 Pushrod Cover gasket 235,261 Engine, 36-91 Oil Drain Plug, Magnetic, 1/2"-20 Thread, 36-62 Oil Filter Decals Set Fram Type, and 54-55 Door Panel Fasteners Set Push Clips (12) from American Classic Truck Parts. American Classic has sent me some free parts from time to time in my orders in appreciation for what I've said about them here so you could also say that they are a BillyBob sponsor.
AMERICAN COLLECTORS INSURANCE, INC.
http://www.americancollectorsins.com/
American Collectors Insurance is well-known to the car-collecting community nationwide, as we have been insuring antique, classic and custom vehicles since 1976.
I have not purchased from this vendor, so I cannot offer recommendations, good or bad.
AMERICAN TRIM & UPHOLSTERY SUPPLY
http://www.atrim.com/
Distributers of auto trimming supplies - Super and poly foam - Auto and boat carpet - Original and vinyl body cloth - Marine accessories - Upholstery supplies.
I have not purchased from this vendor, so I cannot offer recommendations, good or bad.
AMOS ADVANTAGE
http://www.amosadvantage.com/
Shop Manuals - Chevrolet Truck on Compact Disk. Amos Automotive Publishing offers the COMPLETE FACTORY ORIGINAL Shop Manuals, Service Manuals, Body Manuals, Repair Manuals, and Automotive Parts Manuals in easily accessible CD format. Your CD Automotive Manual contains the specifically required paper manuals for the year, make, model of car or truck being repaired, maintained or restored all at one low price. We are licensed to offer 1972 and older Buick, Chevrolet, Chevrolet Truck, Corvair, Oldsmobile and Pontiac, 1979 and older Chrysler, Dodge, Dodge Truck, Ford, Ford Truck, Lincoln, Mercury, and Plymouth, and 1969 thru 1979 Jeeps.
In march of '08, AMOS were clearing out their stock of 1954 Chevrolet Truck Shop Manuals on CD. They were offering them for about $10 or one fifth of the list price. I ordered one. It was well worth the list price (and a real bargain at the closeout price) to have this convenient form. I use it along with the paper manuals, not as a replacement for them.
ANTIQUE AUTO BATTERY
http://www.antiqueautobattery.com/
We are the world's largest supplier of hard rubber raised letter antique batteries licensed by the big three. We offer complete coverage of accurate reproduction batteries for all makes and models. We offer hard rubber script cases, correct caps and the tar top's have our famous non sticky Poly Tar (R). We have the finest quality dry charged factory fresh batteries available for your car or truck. We have a complete line of show quality cables.
I have ordered a 12v G22 Delco 9"x6.75"x9" battery from Antique Auto Battery for BillyBob. The lady I talked to at Antique Auto Battery was very informative and suggested other options that I might take advantage of the next time such as sealed batteries that look like the originals as well as 12v batteries that look like original 6v batteries.
The battery I bought turned out to be defective. I don't think they have many defective batteries, it was just my turn in the barrel. You don't get your money back, you get a replacement for the defective battery. I am not interested in sending it back as that's too much of a hassle (drainage, packing, shipping, buy more electrolyte to charge the replacement battery when it gets here, etc.) so I haven't contacted Antique Auto Battery with my problems. I'm not unhappy with them, just the battery. If I order from them in the future, it will be one of the sealed units. The other problem is that you either have to buy another battery locally to use or let the vehicle sit idle while you're waiting for shipping.
ARC-ZONE.COM
http://www.arc-zone.com/
- features hundreds of welding accessories from mig and tig welding accessories to plasma cutting and tig torches and tungsten electrodes.
I have not purchased from this vendor, so I cannot offer recommendations, good or bad.
ART MORRISON ENTERPRISES
http://www.artmorrison.com/
Art Morrison Enterprises Designs, Builds and Sells custom chassis and suspension components to drag racers, street rodders and pro-streeters.
I have not purchased from this vendor, so I cannot offer recommendations, good or bad.
AUTO AIR COLORS
http://www.autoaircolors.com/
Auto Air Colors are advanced high performance water-based basecoat paint colors. Auto Air Colors offer less than 0.1 VOC & superior results for overall custom paintjobs or graphics on hot rods, tuners, street rods, trucks & motorcycles. Over 200 unique type colors available including: pearlized, metallic, iridescent, candy, hi-lite, color shift, semi-opaque and flakes . . .
I have not purchased from this vendor, so I cannot offer recommendations, good or bad.
AUTOBODYSTORE.COM
http://www.autobodystore.com/
Body repairs and painting have always been my passion and over the past 30 years I've made a living at restoring aged and damaged vehicles in my shop in Southern New Jersey. I now do about 50% classic vehicles and 50% collision repairs and still find this work very rewarding. It is with pride that I share this knowledge with you and hope you profit from your visit to this web site. Len Stuart.
I've spent a fair amount of time in the discussion forum Len maintains on his site and I've learned a lot here. I've purchased a Norton Speed Lock Sanding System and Painter's Small Variety Sandpaper Kit from Autobodystore so far.
AUTO BODY TOOLMART
http://www.autobodytoolmart.com/
America's foremost DIRECT distributor of specialty tools and equipment for auto body repair has been serving the professional body man for nearly 20 years. An experienced professional body man, Mike Doughty, founded Auto Body Toolmart's parent, Champ Frame Equipment, in 1981.
I have not purchased from this vendor, so I cannot offer recommendations, good or bad.
AUTO ETCH INC
http://www.markngard.com/
Highly recommended by police departments, insurance companies and consumer groups for effectiveness, marking a vehicle's glass and component parts with the traceable Vehicle Identification Number (VIN) deters theft. Even though vehicle manufacturers discretely mark some parts, it doesn't seem to be enough. By permanently installing visible, nationally registered and traceable VIN numbers into your vehicle's glass and on the metal body parts you can greatly reduce auto theft and aid in recovery. Vehicle theft is a business and it's just not worth the risk to professional thieves to have one of these marked vehicles or it's parts in their possession.
I have not purchased from this vendor, so I cannot offer recommendations, good or bad.
BEDWOOD AND PARTS
http://www.bedwoodandparts.com/
As the bed floor is the largest flat surface on a classic truck, it plays an integral role in the quality and appearance of the final build. So whether you are restoring your own classic truck or building a one of a kind show truck, we understand how important the quality and integrity of the bed wood is to you. Although oak is an exceptional wood, it does not fit all builds, and until now, has been practically the only species of bed wood offered in the aftermarket. You need not only the highest quality available, but you need a CHOICE IN SPECIES to compliment your truck. When choosing the furniture or cabinetry for your home, a single species or style doesn't fit all needs. Your classic truck is no different. BED WOOD AND PARTS can meet your need!
I have not purchased from this vendor, so I cannot offer recommendations, good or bad.
BIG FLATS RIVET COMPANY
http://www.bigflatsrivet.com/
Specializing in original style rivets for the antique car hobby for 25 years.
I have not purchased from this vendor, so I cannot offer recommendations, good or bad.
BIG JIM'S
http://www.bigjims.net/
Fender skirts, outside sunvisors, custom streetrod and dress-up accessories.
I have not purchased from this vendor, so I cannot offer recommendations, good or bad.
BOWTIE BITS ANTIQUE TRUCK PARTS
http://www.bowtiebits.com/
Bowtie Bits specializes in used, reconditioned, and reproduction parts. We carry over 300 parts manufactured in the USA for our retail and wholesale customers.
I've ordered and received a repro horn button, headlight switch, and a 54-59' Chevy/GMC Rebuilt Turn Signal Kit from Bowtie Bits so far. I'm happy with my purchases and will be back for more
Bowtie Bits had a display in the swap area of the Hutchinson ATHS truck show in 2008. I got to meet owner Jeff McCoy and buy a tee-shirt. This was more critical than it sounds. Hadn't found a place to launder my roadtrip clothes yet and the return leg of the journey was soon to begin.
BROTHERS TRUCK PARTS
http://www.brotherstrucks.com/
BROTHERS is driven to make sure that you are always receiving the highest quality merchandise that is available. We select only the highest quality merchandise, this is how we can always guarantee the products we sell.. Our new manufacturing capabilities have also allowed us to control the quality of some parts in-house. If you are not completely satisfied, BROTHERS will replace or refund any or all items HASSLE FREE! That is how confident we are in the quality of our products. Be careful, there are many items that can be found at lower prices, but they often lack the quality you and your truck deserve. At BROTHERS we never compromise product quality for a lower price and neither should you!
I have purchased a pair of 54-55 Taillamps, Firewall insulation pad and License Plate lights from the Brothers website sales page. I got the items promptly and was satisfied with the quality. The license plate lights were not what I wanted, but if I'd been ordering from their catalog (with pictures), I'd have known that. Brothers has also started adding some useful tech articles on their website.
BRUCE HORKEY'S WOOD AND PARTS
http://www.horkeyswoodandparts.com/
During the restoration-rodding of these vehicles, I realized a need for replacement bed parts and accessories. I've been avidly pursuing a career in woodworking so we put together this line of wood and metal specialties to enable me to be near the truckin' scene and still do woodworking. We have since discontinued the cabinet making and have devoted our full time to this parts business. We have been serving customers nationwide since 1980. Our customers include people restoring pickups-pickups used every day and all-out custom creations.
I have not purchased from this vendor, so I cannot offer recommendations, good or bad.
CALLIES KUSTOMS
http://www.callieskustoms.com/
Kool hand-made retro T-shirts. Made by Gearheads, for Gearheads! All of our T-shirts are printed on the finest 6.1 oz 100% preshrunk cotton. Our hoodies are made of thick 7.75 oz 50/50 fleece with a double thick drawstring hood and a large front pouch pocket. Our '55 Chevy Pickup Truck T-shirt is a classic in every way, representing steel, mud and 4 wheel drive the way it should be. Avalible with two sayings; "You might be a redneck if..." and "Friends don't let friends drive Fords"
I have not purchased from this vendor, so I cannot offer recommendations, good or bad.
CARBURETOR FACTORY
http://www.carburetorfactory.com/
At the Carburetor Factory we are into our Second Generation of Carburetor Rebuilding, Dating Back to 1946.
I have not purchased from this vendor, so I cannot offer recommendations, good or bad.
THE CARBURETOR SHOP
http://www.thecarburetorshop.com/
The Carburetor Shop was established in 1974 as a one stop source of carburetors, carburetor parts, and carburetor restoration for antique car, muscle car, and race car enthusiasts. The Carburetor Shop added an automobile racing collectibles division in 1988. A collectible doll division was added in 1991. Today, The Carburetor Shop has one of the worlds' largest selections of carburetors (more than 150,000), carburetor rebuilding kits, parts, special tools, etc.
I have not purchased from this vendor, so I cannot offer recommendations, good or bad.
CASCADE AUDIO ENGINEERING
http://www.cascadeaudio.com/
ThermaKote is a thermal insulating coating made up of air filled ceramic and silicon beads held in suspension by a high temp latex acrylic binder. This advanced material yields superior insulating capabilities. ThermaKote is the result of a project funded by NASA to formulate an insulating coating. ThermaKote is currently used in the U.S. Space Shuttle program.
I have not purchased from this vendor, so I cannot offer recommendations, good or bad.
CASWELL INC
http://www.caswellplating.com/
We've been supplying the hobby electroplating market with quality products and support since 1991. Thousands of people around the world are successfully using our kits. A complete range of electroplating kits, anodizing supplies, powder coating systems, metal polishing supplies and accessories are available on our web site.
I've ordered and received a 1/3 HP Buffer Motor and Buffing Kit, Green Rouge buffing compound and Evercoat Metal-to-Metal Filler from Caswell so far. The products arrived in good time and order and I will be purchasing more from Caswell in the future.
CHEV'S OF THE 40'S
http://www.chevsofthe40s.com/
Chev's of the 40's is the world's most complete supplier of 1937-54 Chevrolet car and truck parts. We stock over 8000 different parts for your Chevrolet. Our expertise, quality and service exceeds all competitors.
I have web ordered and received a Flywheel Ring Gear - 139 teeth (exc powerglide) from Chev's of the 40's thus far. It arrived in a timely manner and looks good. I won't be installing it until later down the road. I have also ordered and received a Clutch Head Driver w/bits, a spare re-manufactured Rochester B Carburetor, a spare re-manufactured 6v starter, Oil Pan Gasket Set, a Rear Main Seal - Original 2-piece Rope, and a Rear Main Bearing Seal - 2-piece Neoprene that also arrived within a week or two.
CLASSIC PARTS (formerly CHEVY DUTY ON-LINE)
http://www.classicparts.com/
We offer a complete line of parts & accessories for your Chevy or GMC truck. At Chevy Duty, we carry only the highest quality lines of New, Used, and New Old Stock parts.
Update 5/2/6: I received a request: We have changed our name to Classic Parts of America. If possible, could you please update the Chevy Duty link to www.classicparts.com . . . Done!
I have ordered firewall and fender grommets, horn button contact, wiring diagram, Parking Brake Grommet, Seals, Boots, Ctrl Rod, Yoke Ends, U-Bolt, Gaskets, (2) Battery Top Retainers, Battery Hole Cover Gasket, (2) sets Parking Lamps, Gaskets, (6) Oil Filters, Lines and Decals, Stoplamp Switch, Headlamp Switch Replacement, Chrome Front and Rear Bumpers, Rear Bumper Brackets and Bolts, (2) sets bumper bolts, Headliner, shocks, gas tank cap, rubber and fittings, (3) sets gas tank hoses, cowl rubber, glove box lock striker, firewall cover retainers, gas tank sender, brake shoes, wheel cylinders, master cylinder, master cylinder boot, master cylinder access plug, brake spring kits, brake adjusters, brake adjustment access plugs, amber parking light lenses, front (2) shackle kits, rear shackle kit, front u-bolts, front and rear axle bumpers, short-shaft water pump, throw-out bearing, a new radiator, Headlight Rims, Screws, Gaskets, Buckets and Lamps, Bleeder Screws, Zerk Fittings, (2) Water Pumps 53-54, Distributor, Dist Cap, Rotor, Points, Condenser, 12v Coil, Vacuum Advance, Rubber Floor Mat, Window Handles, Inside Door Handles, Outside Door Handles, Inside Door Handle Gasket Set, Door Lock & Key, Door Latches, Door Strikers, Door Ctrls, Door Pnls, Door Pnl Frames, Dr Rubber Seal, Dr Seal Retainer Screws, Lower Cab Windlass Rubber, Retainer & Screws, Weatherstrip Adhesive, Dr Glass Channels, Div Bar, Beaded Wdw Seals, Dr Felt Kit, Outer Rubber Wdw Seal, Vent Wdw Weatherstrip, Vent Assembly Rivets, Pivot Rivets, Rivet Tool, Dr Glass Channel Guides, Outside Handle Gaskets, Vent Handles, Pins, Springs, Dr & Wdw Stop Bumpers, Lower Hinge Pnl Screws, Wdw Regulators, Dr Pnl Fasteners, Dr Molding Screws, Glass Setting Tape, Dr Glass Clear (2), Vent Glass Clear (2), Arm Rests (2), Lower Dr Seal Retainers (2), Dome Lamp Assembly painted, Chevrolet Accessories Installation Manual for 1954 Passenger Cars and All Trucks, (2) Cigarette Lighter Assemblies 12v, Fan Blade 47-54, Spare Tire Hook, Air Cleaner Decal, Tailpipe Hanger Straps, 54-55 Tinted Windshield, Brake Line Flex Hoses and Clips, Cab Windlace Rubber-Dark Green 49-54, Wiper Knob, Choke Cable & Knob, Throttle Cable & Knob, Grille Nose - Steel 54, Four Hole Firewall Grommet, Horn Relay, Radiator Support Pads, Radiator Support Bolts, Taillight Lens, 2 each Front Grease Seals, Spindle Nuts & Washers, Shift Box Grease Plugs, and 3-speed Transmission Gasket Sets (ordered 2 received 1) from Chevy Duty so far.
I have ordered and received Spare Accelerator, Starter & Clutch Return Springs, Clutch Linkage Rods (2 each), Spare Fuel Pump, Fuel Filter Assembly & (2) addit Filters and Gaskets, Carb Insulator, Intake/Exhaust Manifold Gasket Set, Intake Manifold Alignment Sleeves, Spare Wheel Cylinders (1) each, Spare Front Brake Hoses, Spare Ignition Resistor 47-59, (2) Defroster Outlets 47-55, Defroster Duct Hose 54-63, Spare Remanufactured Distributor and core charge, 54-56 Steering Wheel, (2) Front Wheel Bearing Seals, (12) Flywheel Bolts 47-91, (12) Clutch Bolts 47-91, (2) Pilot Bushings 47-87, and (2) Clutch Fork Pivot Balls 3/8 Shaft 47-59 since the name change to Classic Parts of America.
Only five items were backordered and they were not charged until they shipped. All the other items (that were not back-ordered) arrived within a week or two as far as I can remember and I am satisfied with the prices and quality of the parts. Due to a backorder glitch, I ended up with some extra parts, but I decided to keep them as spares.
CLASSIC CHEVROLET PARTS
http://www.classicchevroletparts.com/
Specializing In Antique and Classic Chevrolet Parts 1932-80. 8723 South Interstate 35 - Oklahoma City, OK 73149.
I have not purchased from this vendor, so I cannot offer recommendations, good or bad.
CLASSIC CHEVY INTERNATIONAL
https://www.classicchevy.com/
Both members and "visiting" members have access to the online catalog to make purchases. Members have the benefit of a price discount (member price vs. list price), access to Classic Chevy World magazine online and in print, access to online and 1-800 tech help, access to "members only" areas of the site, and more.
I have not purchased from this vendor, so I cannot offer recommendations, good or bad.
CLASSIC INSTRUMENTS
http://www.classicinstruments.net/
At Classic Instruments, our only business is to design and manufacture the finest instruments ever made for specialty cars! Our goal is to be the only company you will ever want to call - for all your instrument needs!
I have not purchased from this vendor, so I cannot offer recommendations, good or bad.
CLIFFORD PERFORMANCE PRODUCTS
http://www.cliffordperformance.net/
Today, Clifford Research, now known as Clifford Performance, is the undisputed leader in 4 & 6 cylinder cars and off-road vehicles.
I have not purchased from this vendor, so I cannot offer recommendations, good or bad.
COKER TIRE
https://www.cokertire.com/
Coker Tire is the world's largest distributor of antique and classic tires for automobiles, trucks and motorcycles. We are the exclusive worldwide distributor of B.F. Goodrich Silvertown, Firestone and Firestone Wide Oval, and U.S. Royal vintage tires. Additionally, we are the exclusive North American distributor of Michelin vintage products. We also offer our Coker Classic and Commander brand tires plus a variety of others.
I have ordered an 3 inner tubes for BillyBob from Coker so far. The first one arrived within a reasonable time after the order was executed (web orders can take up to 48 hours to process) and the invoice arrived a few days later. The local shop that was fixing my tire ordered the same inner tube from Coker a week earlier and they lost the order. The only difference is that I ordered online and the local shop ordered by phone.
On the second order for two more tubes in early 2007, I went thru the extra hassle of filling out the shipping address info only to see it delivered to the billing address anyway. this was an inconvenience.
In 2016, I ordered and received Firestone 890x16 dirt track tires and tubes for BillyBob's hot rod build. They are mounted but performance reporting will have to wait until BillyBob is back on the road.
COLUMBIA COATINGS
http://www.columbiacoatings.com/
Our Goal is to Bring You a New Prospective Varity of Products from the Powder Coating Market. Quality and On Time Delivery is What We Strive On. 100% Satisfaction Money Back Guarantee. The best out there. Who else will Match what Columbia Coatings will Do. Try it and See. All Our Powders will Work with All Brands of Powder Coating Guns.
I've ordered "Clear Chrome", "High Gloss Clear" and "Low Gloss Black" powders from Columbia so far. The prices were good and the products arrived in a timely manner. I've used the "low Gloss Black" and "Clear Chrome" with good results. The "High Gloss Clear" produced a satisfactory result.
COPPER STATE BOLT AND NUT CO
http://www.copperstate.com/
Copper State Bolt & Nut is committed to being the finest distributor and manufacturer of fasteners and related products in North America.
I have not purchased from this vendor, so I cannot offer recommendations, good or bad.
CRUSSE'N CLASSICS
http://www.crussenclassics.com/
Crusse'n Classics has developed the first true 6-lug bolt on disc brake kit. Exclusively manufactured for Chevy-GMC trucks, we have conversion kits for 1948-1959 and 1960-1970. See our catalog for a full description.
I have not purchased from this vendor, so I cannot offer recommendations, good or bad.
D-RUST-IT
http://www.d-rust-it.com/
A great rust remover with powerful rust dissolving properties. Easily turns rusted metal into usable products.
I have not purchased from this vendor, so I cannot offer recommendations, good or bad.
DEL CITY
http://www.delcity.net/
Del City has been your direct source for professional grade electrical supplies since 1947. Purchase automotive wire, wiring, cable, electrical terminals, connectors, clamps, grommets, circuit breakers, fuses, switches, testers, cable ties, loom, and thousands of other electrical products, all backed by the best personal service in the industry.
I have placed one online order with Del City so far for large ring terminals, heat shrink, solder and solid core copper wire. The shipment arrived promptly along with a catalog and I received a message on the Krash Pad answering machine inquiring if I was happy with the order. I am and I will order from Del City again.
DIAMOND BACK CLASSICS
http://www.widewhitewalltires.com/
Diamond Back Classics is a division of Tread Systems, Inc., makers of the world famous Diamond Back Racing Tires. Founded in 1915, we are a family owned business and for 85 years have been involved in all areas of the tire and rubber business.
In early 2012, I purchased a set of "Smoothie" Diamondback P205/75R15 front, P225/75R15 rear tubeless radials for the Deerslayer. I am very happy with them.
DUNLOP TIRE CORPORATION
http://www.dunloptire.com/
This year (1998), Dunlop celebrates its 75th year manufacturing tires in the USA.
I have not purchased from this vendor, so I cannot offer recommendations, good or bad.
DUPLI-COLOR
http://www.duplicolor.com/
Premium brand leader in automotive paints, primers and coatings.
I have not purchased from this vendor, so I cannot offer recommendations, good or bad.
THE EASTWOOD COMPANY
http://www.eastwoodco.com/
Unique automotive tools and supplies.
I have purchased Corroless Rust Stabilizer, Metal paint masks for wheel rims, and Painted wheel clear coat from Eastwood. I've also ordered Cleaning Disk and Mandrel, Aerosol Sprayer and Propellant, Parts Cleaning Twin Tumbler and Media, Electroplating System, Tight spot grinding kit, Cotter Pin Pliers, Black Oxide Metal Finishing Kit, 6 volt to 12 volt Conversion Video, Art of Buffing Video, Metal Prep & Rust Repair Video, 60 pc SAE/Metric Tap and Die Set, 90 Pound Abrasive Siphon Blaster, Brake Drum Remover, Brake C Ring Pliers, Drum Brake Tool Kit (three-piece), Mityvac Brake Bleeding Kit, Professional Abrasive Blast Hood, Mini Nibbler & 2 Replacement Blades (Sheet Metal Cutter), Grime Blaster Wash Nozzle, Detailing Your Car video, Moisture Separator and spare filter, Bearing Race and Seal Driver, Brass Mallet, Seal Puller, Threaded Line Plugs, 4 Ton Hydraulic Body and Frame Kit, Mechanix Gloves, Inline Air Filters, Vinyl Protector Set (caps & plugs), Hot Coat Deluxe Kit (powder coat kit), Infared Powder Coat Curing System, Tubing Flaring Kit, (3) Tubing Benders, tubing cutter, 5" Air Body Sander, TDC Indicator w/extension, Speed Blast Gravity Feed Blaster, Mini Radial Bristle Disc System, Shake-n-break, Universal Roller Bearing Packer, Paint Your Own Car Video, Mig Welding Video Vol 1, Basic Techniques for Working with Steel Video, Auto Body Patch Panel Video, Doorskin Remover and Installer Kit, Cordless Rechargable Wet/Dry Vacuum w/Blower, Sheet Metal Hole Punch, Jumbo Rod Bender, Sheet Metal Shrinker/Stretcher Kit, Key to Metal Bumping Handbook, Automotive Stethoscope, 7pc Body & Fender Set, Light Dinging Spoon, Battery Cable and Connector Kit, Collector Car Restoration Video Set, Battery Cable Cutting Pliers, Radiator Pliers, Fin Rake Set, 18" Mighty Mini Bender Brake, Ion Headlamp, Best of Jim Richardson's Restoration Tips Video, Bodyshop Basics VHS Video from Paintucation, (3) copper welding aids, Buffing Face Shield, Body File Holder and File, E-Z Pull Pipe Clamp, (2) Flapdisc 40 Grit 4 Inch Diameter 5/8 Hole, Panelbeater Sandbag and Teardrop Mallet Kit, Metal Cutting Air Shear, Replacement Blade, Shrinker/Stretcher mounting Plate, Reproduce Almost Anything Video and Booklet, Flexible Drill Shaft, Colortune Engine Analyzer, Crankshaft EZ Spin, Portable Wheel Balancer, Portable Blast Cabinet, 3" Orbital Air Sander, Color Sanding and Buffing Video, Universal Rotating Parts Work Stand, Cross Bar Paintless Dent Repair Kit, Micrometer Tappet Adjuster, Battery Terminal Lifter Pliers, Board Sander Kit (set of three - 6-3/8" Small, 9-1/16" Medium, 15-3/4" Large), Beugler Deluxe Pinstriping Kit, Magnetic Guide Strip, Ivory Sign Paint & Reducer, Mushroom Buff Kit, Pinstriping Brush, Transmission Jack, Magnetic Hole Plug Welding Tool and too many special finishes to remember. Many of their products are pricy but my experience with them has been pleasant and I will continue to purchase from them.
EATON SPRINGS
http://www.eatonsprings.com/
Eaton Detroit Spring, Inc can supply almost any leaf or coil spring, for American cars or trucks, from a 1902 Curved Dash Oldsmobile to current models.
When I ordered stock springs from the website, a feller from Eaton called me up a couple of days later and, after a few questions, helped me decide that the "rod ride" springs would be more suitable for my uses. He gave me the rod springs for the same price as stock springs. Also ordered all the installation fittings 'cept the U-bolts which I already have. These things are not painted but all the bushings are already pressed into the spring eyes - That's a big plus in my book. I will only have to deal with the frame bushings now. Eaton springs aren't cheap but this is one area where I didn't want to skimp any. The springs and fittings arrived in a timely manner. I installed the springs over the 2002 Thanksgiving Day weekend. They look great and the ride quality above thirty mph has greatly improved. I still have some shackle and alignment tweaking to do but I can say that I am pleased with my new springs at this point. Update 11.21.2003 Took almost a year, but I have the shackle bushing, caster shim and u-bolt issues resolved. There is no bed in the truck yet but, allowing for that and the fact that I'm still rolling on bias ply tires, the ride is great! Update 03.31.2007 OK! BillyBob now has the weight of a bed and spare tire and there are new tires (bias ply with inner tubes) on all four wheels at 26 psi. The ride is good except for a vibration in the forty mph range which, I think, is a tire balance problem that has nothing to do with the springs.
EGGE MACHINE COMPANY
http://www.egge.com/
Egge Machine Company provides the automotive aftermarket with the quality obsolete engine parts that keep America's classic cars alive and running. Egge has manufactured high quality pistons, valves and valve guides for more than 70 years. We stock a wide variety of internal engine parts and rebuild kits.
I have not purchased from this vendor, so I cannot offer recommendations, good or bad.
ELECTRO-TECH
http://www.turnswitch.com/
Welcome! Electro-Tech is a specialty electrical shop for classic and collector automobiles.
I have not purchased from this vendor, so I cannot offer recommendations, good or bad.
eMACHINESHOP
http://www.emachineshop.com/
eMachineShop is the remarkable new way to get the custom parts you need - the first true online machine shop. Download our free software, draw your part, and click to order - it's easy! Your part will be machined and delivered - at low cost.
I have not purchased from this vendor, so I cannot offer recommendations, good or bad.
ENGINE KITS ONLINE
http://www.enginekitsonline.com/
We sell Master engine kits, re-main engine kits, re-ring engine kits, re-ring-main engine kits. We sell sealed power engine kits, Engine tech engine kits, and Bison engine kits. We will build your engine kit according to your requirements. We have performance engine kits, RV engine kits, truck engine kits, off road engine kits. We have engine kits with power forged pistons.
I have not purchased from this vendor, so I cannot offer recommendations, good or bad.
ENGINE LAB OF TAMPA
http://www.enginelaboftampa.com/
Engine Lab of Tampa, Inc. is Florida's finest engine rebuilder, machine shop, and installation repair facility. Have us professionally remanufacture and install your engine/long block or you may purchase one of our premier engines.
I have not purchased from this vendor, so I cannot offer recommendations, good or bad.
ESPO SPRINGS N THINGS
http://www.espo.com/
ESPO Springs 'n Things has been in business since 1988. We sell quality suspension parts at discount prices. We can give you better prices because we are a family-operated business and don't have the overhead or price markups that some of the other companies have. This also means that you get the personal touch on each and every order. Also, every set of leaf springs sold is a matched pair. Centerbolts and arches are matched so the vehicle will sit level and track straight.
I have not purchased from this vendor, so I cannot offer recommendations, good or bad.
FASTENAL
http://www.fastenal.com/
Fastenal was founded in 1967 in Winona, MN by company Chairman, Bob Kierlin. From this beginning, Fastenal has expanded to become the fastest growing full-line industrial distributor, and is now the largest fastener distributor in the nation. Our service-oriented business network currently includes an in-house Manufacturing Division, a product Quality Assurance and Engineering Department, a strategic system of 12 Distribution Centers in the U.S., a fleet of over 275 company-owned semi-trucks and trailers and over 2,000 Store sites.
I have not purchased from this vendor, so I cannot offer recommendations, good or bad.
FIFTH AVENUE INTERNET GARAGE
http://www.fifthaveinternetgarage.com/
Welcome to Fifth Avenue Internet Garage. Since 1988, Fifth Avenue has been making antique, classic and special interest vehicles more reliable and fun to drive. We have done it for the cars entered in the Great Race, we have done it for the movie studios, and we have even done it for the Queen of England. Consider this your personal invitation to tour our Internet Garage. You are free to wander around, peek in all of the corners, and spend some time reading about some of our past adventures. We will provide you with the same personal service that we provide to all of our customers. We welcome your questions and comments and look forward to hearing from you soon! Randy Rundle, Owner/Founder Fifth Avenue Antique Auto Parts.
I have not purchased yet from Randy, so I cannot offer recommendations, good or bad. I do have a copy of his book "Wired for Success : Auto Electrical Made Easy" and it has been a great help with BillyBob. Randy is also the "Electrical Bay" forum moderator over at Stovebolt.com.
THE FILLING STATION
http://www.fillingstation.com/
We have a large stock of reproduction rubber items, including windshield back glass and vent window rubbers, trunk and door weatherstrips, runningboard mats and floormats. Interior plastics including dash, radio and heater knobs. Mirrors, tail light lenses, dash glass and decals. Suspension, brakes and other mechanical parts.... Specializing in pickup bed kits, bed strips, bolts, tailgates and bed panels. Shop manuals and much more!!
I have ordered and received a reproduction stainless steel coolant recovery tank from them. It took over a month to get here but my credit card was not charged until it shipped and I am happy with the product. More recently, I've ordered Windshield Wiper Gaskets, Bezels, Bezel Hold Down Nuts, and Control Rod Grommets from the online catalog and that shipment arrived about a week later.
FLEX-A-LITE CONSOLIDATED
http://www.flex-a-lite.com/
Manufacturer for over 35 years of high performance belt-driven and electric engine cooling fans, engine and transmission oil coolers, and accessories.
I have not purchased from this vendor, so I cannot offer recommendations, good or bad.
FLITZ POLISHING PRODUCTS
http://www.flitz.com/
Flitz is non-toxic, non-acidic, and non-abrasive, which makes it very safe to use as a strong, effective cleaner on just about any solid surface. This includes all metals, from your best gold and silver to the aluminum and chrome on your car or motorcycle. Other solid surfaces include Fiberglass, Acrylic, Tile, Marble, Granite, Ceramic, Corian, Plexiglas, Eisenglass, and smooth vinyl. Flitz is also great on hard laminates like Formica.
I've ordered a couple of Flitz Buff n Wax Balls online. In addition, I bought one of the Flitz buff ball and polish kits thru another vendor. I am happy with these products. I've been able to use the polish on BillyBob's rough rattlecan Rustoleum paint to smooth it enough to take wax.
GARDNER-WESTCOTT COMPANY
http://www.gardner-westcott.com/
Welcome to the Gardner-Westcott Company web site! We've been in business for over 25 years creating custom packaged fastener kits especially tailored to automotive and motorcycle applications. We carry a full stock of chrome plated, polished chrome, stainless steel, polished stainless, zinc, gold, and brass fasteners including bolts, nuts, screws, and washers. Available in American and Metric threads as well as British and OEM threads.
I have not purchased from this vendor, so I cannot offer recommendations, good or bad.
GENER-NATOR
http://www.gener-nator.com/
Hello, I'm Don Allen. I am the developer and manufacturer of the Gener-Nator™. I have been in the starter, alternator and generator field for 38 years and I specialize in custom remanufacturing and change over design. The decision to develop the Gener-Nator™ stemmed from my experience with the increased failure rate of the generator and external voltage regulator when saddled with the demands of more modern automotive electrical applications. Also the many requests from street rodders and purists for more power from the generating system, without having to mount an alternator and take away that nostalgic look.
I have not purchased from this vendor, so I cannot offer recommendations, good or bad.
Get GIBBS
http://www.getgibbs.com/
In 1969, Paul Gibbs -- a Harley-Davidson mechanic with a background in chemistry -- invented GIBBS Brand. No one, since that date, has ever expressed dissatisfaction with GIBBS ... and no one has ever returned a single can. GIBBS was the first penetrant to ever become patented, establishing a new category in the Library of Congress. It is the only penetrant/lubricant/waterproofer available that undercoats metal and can be painted over. If you take any bare metal that has been treated with GIBBS, it can be touched with dirty or sweaty hands without leaving any marks or stains. Anything treated with GIBBS will not attract dust or dirt. GIBBS contains no abrasives, acids, arsenic, carcinogens, corrosives, graphite, kerosene bases, masking perfumes, pigments, silicones, teflon or waxes.
I have not purchased from this vendor, so I cannot offer recommendations, good or bad.
GLIDE ENGINEERING
http://www.glideengineering.com/
Custom seat frames for street rods and trucks.
I have not purchased from this vendor, so I cannot offer recommendations, good or bad.
GMC PAULS TRUCK PARTS
http://www.gmcpaulstruckparts.com/
GMCPaul's Truck Parts Striving to meet all of your GMC & CHEVY Truck Parts Needs. We Carry New Parts For The 1947-2001 GMC / Chevrolet Trucks Looking to restore your truck or needing parts for that daily driver stop on in and let us try to fill your shopping list. We Drive Restore And Work on GMC & Chevy Trucks Exclusively You Have A Parts Need Or Truck Related Question Give Us A Ring We Will Be Glad To Help.
I have not purchased from this vendor, so I cannot offer recommendations, good or bad.
GOLDEN STATE PICKUP PARTS
http://www.golden-state-parts.com/
Golden State has operated under three, concepts: "If we don't have the part, we will find it for you." Over 25 years, Golden State has continually been adding new parts to its line so it can remain a complete supplier of Chevy and GMC pickup parts. Golden State has worked closely with General Motors to produce many parts directly from the original tooling.
I have purchased one time from this vendor (brake hoses and factory manual) and was satisfied with the experience. The parts were of good quality and arrived promptly. Others (specifically those from "oletrucks" mailing list) have not been so lucky. Be aware that GSPP will bill your credit card immediately even if the item is put on backorder (sometimes for months). Also, know what you want because many of the sales people do not have knowlege of their products. GSPP has changed ownership since I last ordered from them. I don't know if the new owners are addressing the problems some customers have with this company or not.
GOODSON SHOP SUPPLIES
http://www.goodson.com/
Goodson offers over 8000 tools and supplies for rebuilding cylinder heads, short blocks, crankshafts, flywheels and brakes. We ship same-day when you order by 5pm Central time and all of our products are backed by an Iron-Clad Guarantee of complete satisfaction.
I have not purchased from this vendor, so I cannot offer recommendations, good or bad.
GRAINGER
http://www.grainger.com/
Grainger Industrial Supply, the leading broad line supplier of facilities maintenance products, helps local businesses maintain, repair and operate their facilities. Whether it's finding a motor for a downed assembly line or sourcing 1,000 fasteners for same-day delivery, Grainger is committed to helping customers find quick solutions for their facility maintenance needs.
I have not purchased from this vendor, so I cannot offer recommendations, good or bad.
GREEN BAY PARTS WORLD
http://www.greenbaypartsworld.com/
Green Bay Parts World is a small company with low overhead & low prices. We offer a wide range of products. Our specialty is engine rebuilding kits and engine components.
I have not purchased from this vendor, so I cannot offer recommendations, good or bad.
HAGERTY CLASSIC INSURANCE
http://www.hagerty.com/
Hagerty Classic Insurance is the fastest growing insurer of classic automobiles and boats in the United States.
I have not purchased from this vendor, so I cannot offer recommendations, good or bad.
HANDS ON TOOLS
http://www.handsontools.com/
We at HandsOnTools specialize in bringing you the latest automotive refinishing and mechanics tools and supplies on the market today. We also strive to bring you these supplies at considerable savings, without sacrificing customer service and technical support.
I have not purchased from this vendor, so I cannot offer recommendations, good or bad.
HARBOR FREIGHT TOOLS
http://www.harborfreight.com/
Convenience, value, and quality has been our mission statement for over twenty-nine years! That's why our two million satisfied customers call HARBOR FREIGHT TOOLS for the finest tools at the lowest prices.
Folks on the ole trucks mailing list with Harbor Freight experience relate that some great deals can be had if you know your tools. Quality can vary greatly with this vendor, so be an informed shopper to avoid disappointment. I've only made a couple of purchases from Harbor Freight so far. One was for a 20-piece spring assortment. The springs appear to be of satisfactory quality and I have no complaints. The other was a cheap blast cabinet that I haven't tried yet but I have no illusions. I bought the blast cabinet as a "starter" and am prepared to put up with its limitations. Purchased a Bead Roller Kit for metalworking that was on sale for half price. Also purchased a 3 pc Locking C-clamp Set, 3-in-1 Service Kit, 6 pc Screwdriver Set, Air Angle Die Grinder, 10 pc Diamond Pt Grinding Set, and Slide Hammer Kit on sale. For what it's worth, many of the items are manufactured in China. It would be nice if vendors would mention where the products are from in their product info. It is not my policy to support Red China, or any other tolalitarian regime, if other options are available. Update 05.22.2002 The blast cabinet is working within the limitations I set for it. I've had to seal leaks and "pile up the media" over the feed tube often, but I expected that. Also bought Coveralls, Abrasive, Heavy Duty, Large for blasting and maybe welding. Also got a Portable Tire Changer, Tire Spreader, 10 pc Spring Clamp Set, ˝" Quick Release Torque Wrench, 29" Universal Tool Stand, Reusable/Refillable Aerosol Spray Can, Touch-Up Spray Gun, Air Angle Die Grinder, 4 pc Pry Bar Set, 100 Util Knife Blades, a 14 pc Punch and Chisel, 6pc Stretch Cord Set, 2pc 4" C-Clamp Set, 3" Wire Cup Brush, 7pc Drill Stop Set, Face Shield Replacement Lens Set, ˝" Drive Breaker Bar 25", Nitrile/Latex 2 mil gloves 100 pr, and 10 pc Coupler Air Male 1/4" NPT when they were on sale. In 2005, a 110 lb Pressurized Abrasive Blaster and a Sewing Awl Ouick Stitch was purchased.
HIRSCH AUTOMOTIVE PRODUCTS
http://www.hirschauto.com/
We have been in business for over 35 years and carry an extensive line of automotive restoration products. We stand behind every one of our world famous products and are confident that our experience, friendly service, and knowledge will best serve you in your restoration project.
I've ordered and received a couple of cans of rattlecan engine paint from Hirsch so far. Despite being applied under less than optimum conditions and surface preparation, the paint is holding up splendidly so far.
HOLLANDER INTERCHANGE
http://www.hollanderinterchange.net/
(ADP Hollander disapeared from the web for awhile but now they are back.) Our information and productivity tools lead the field. Professional recyclers and repair shops rely on us to keep up on the latest part options, manage costs and maintain quality. Now, you can too.
I have purchased the 1946-1956 Classic Car Parts Interchange Manual (Vol II) and 1954-1966 Classic Car Parts Interchange Manuals Vol III (Parts A and B) from Hollander. Ordered them online and they arrived in a couple of weeks with a "thank you" note handwritten on the receipt. They have already helped me find transmission parts. Recently, after the new website came back online, I ordered and received Volume I of the Classic Car Parts Finder 1920's - 1948.
HOT ROD MEMORIES
http://www.hotrodmemories.com/
Welcome to the internet home of Hot Rod Memories: favorite destination of car enthusiasists the world over to buy classic hot rod movies, biker films and drag racing video tapes and dvds. We have an inventory of hundreds of Classic 50's Hot Rod, Sci Fi, Rock 'N' Roll and Juvenile Delinquent films. We have "Beach Movies" from the '60's also Drag Racing and Biker Movies from the '50's, '60's and '70's. We have many more titles than are shown here. Please feel free to call us for your needs. If we don't have what you're looking for we'll be happy to use all our resources to find it for you.
I have not purchased from this vendor, so I cannot offer recommendations, good or bad.
IDA'S CLASSIC CHEVROLET PARTS
http://www.idaschevs.com/
Specializing in 1937-1948 Chevrolet parts: New old stock, quality reproduction and hard to find used parts. If you do not see the part you need please contact us. If we don't have it on the shelf we will do our best to locate it for you! With over 17 years of experience and connections what better chance do you have locating that Classic Chevy part? If you would like a picture of any of our used parts emailed to you just let us know! We care about our customers and will do all we can to help make your classic restoration or street rod project easier.
I have not purchased from this vendor, so I cannot offer recommendations, good or bad.
INLINE TUBE
http://www.inlinetube.com/
Inline tube is the leading manufacturer of computer preformed automotive tubing. Inline tube offers a variety of products ranging from preformed brake line sets for all classic cars and trucks, straight length tubing sets for the street rod enthusiast and our exclusive products; stainless and OEM brake cables, brake and fuel line clips, stainless and OEM brake flex hoses and proportioning valves.
I have not purchased from this vendor, so I cannot offer recommendations, good or bad.
JAY-CEE SALES & RIVET INC
http://www.rivetsinstock.com/
Jay-Cee Sales & Rivet maintains the nation's largest in-stock inventory, supplying rivets and special fasteners since 1948. We take great pride in offering any type, any metal, any size to meet your rivet needs.
I have not purchased from this vendor, so I cannot offer recommendations, good or bad.
JIM CARTER ANTIQUE TRUCK PARTS
http://www.oldchevytrucks.com/
We are one of the world's leading suppliers of quality restoration parts for your 1934 - 1972 Chevrolet or GMC truck. Our trained & knowledgeable staff is ready to answer all your technical questions & help process your order fast & efficiently. Our goal is to have the right part in your hands, as quickly as possible.
I have purchased Reproduction hub caps, Gearshift Linkage Parts, Wiring Harness, Turn Signal Kit, Hood Bumper Set, Radiator Hoses, Clamps, Cap, Petcock, Pads, and Aerosol Sprayer and Propellant, Turn Sig Lever, Flasher, Starter Boot, Starter Rtn Spring, Braided Grd Strap, Starter Switch, Rebuilt Starter, Pinstriping Tape and Pinstriping Guide from this vendor and am satisfied with the experience. Some time back, I was happy to find an "Alternator Rebuilt 63-72 for vehicle with external regulator" at Jim Carter's - This was an exact replacement for the one I had that a previous owner had replaced the generator with. I ended up getting two more of these alternators when I damaged the first one. One arrived with a broken housing and Jim Carter's gave me a return authorization but I never got around to sending it back. I'm gonna see if I can cannibalize it for the parts I need to fix the one I damaged. All the other parts were of good quality and arrived promptly. When I picked up a transmission with Borg-Warner overdrive, I got a Transmission Overdrive Wiring Harness 55-65 Truck & Car from Jim Carters. It matches my main harness and will look like it belongs when I get around to installing the tranny. A Jim Carter employee, Kelly, is a member of the "oletrucks" mailing list and members of that list can get a discount on Jim Carter purchases. Update 12.09.2003 Rick Wagner informed us that "Last evening we lost a true old truck enthusiast. Kelly Mitchell has passed away from some complications after a recent surgery. Some of you may have dealt with Kelly from time to as he was an employee at Jim Carters old truck parts. Kelly leaves behind a wife and daughter, as well as many many friends from our local truck club as well as others. He will missed! Think of Kelly and his family in your prayers."
JULIANO'S HOT ROD PARTS
http://www.julianos.com/index.html
Hot Rod Parts & Interior Products. Because of our commitment to customer satisfaction, Juliano's will continue to offer quality and innovative products at a fair and reasonable price.
I have not purchased from this vendor, so I cannot offer recommendations, good or bad.
JUNK YARD DOG
http://www.junkyarddog.com/
Junk Yard Dog ® is the Premier Internet site for finding used auto parts. Although we specialize in used auto parts, you can also locate used truck parts, used farm tractor parts and used parts for RV's, ATV's, Motorcycles and Snowmobiles. Buy used, your auto will like it.
I've used this service once so far to find a flywheel. I got e-mail replys from two salvage yards within twenty-four hours. The experience with the salvage yard I chose did not have a happy ending at first (eventually resolved to my satisfaction) but that is not JunkyardDog's fault and I will most likely use the service again in the future..
KANO LABORATORIES SOLUTIONS
http://www.kanolabs.com/
Penetrating-lubricating oils, Industrial lubricants, Industrial specialities, Engine cleaners.
I ordered Kroil/AeroKroil penetrating oil directly from this site and several members on the oletruck mailing list swear this is the best stuff to come along since sliced bread. After using the product, I gave up sliced bread.
KANTER AUTO PRODUCTS
http://www.kanter.com/
World-wide supplier of new mechanical auto parts for Antique 1930 to 1986 American cars and trucks.
I purchased the POR-15 Floorpan and Trunk Restoration Kit from Kanter. It arrived promptly. The only inconvenience is that it had to be delivered to the billing address as a separate shipping address was not allowed.
LAWSON PRODUCTS INC
http://www.lawsonproducts.com/
Lawson Products, Inc. is an international seller and distributor of systems, services and products to the industrial, commercial and institutional maintenance, repair and replacement marketplace with subsidiaries in Canada, Mexico and the United Kingdom. We specialize in fastening systems, cutting tools, chemicals and abrasives, hydraulics and automotive products. These products are offered in conjunction with engineering consultations and inventory control solutions to satisfy all of your maintenance and repair requirements. Since our inception in 1952, Lawson's primary focus has been to improve your company's efficiency with cost-effective solutions and expert analysis. We understand your need to lower maintenance costs, reduce equipment and vehicle downtime, and increase productivity. To meet your requirements, Lawson guarantees your 100% satisfaction.
I have not purchased from this vendor, so I cannot offer recommendations, good or bad.
LEDTRONICS INC
http://www.ledtronics.com/
Ledtronics, Inc. was founded in 1983 by Pervaiz Lodhie and Almas Lodhie as a small two-person manufacturing organization. The company is certified as a Minority-Owned Small Business and has grown into one of the world's leading suppliers of innovative LED lamps, clusters and arrays. The company now employs 300 people and has sales representatives world-wide.
I have not purchased from this vendor, so I cannot offer recommendations, good or bad.
LONG MOTOR CORPORATION
http://www.lmctruck.com/
GREAT PRICES with the convenience of mail order on thousands of original equipment, reproduction and high performance parts plus accessories, upholstery, rubber and chrome trim.
I've purchased Fender Grommets, Gearshift parts, Fan Belt, Remote Starter Switch, and 1955 1st Series 1/2 ton Rear Axle U-Bolts, Nuts, Washers, Front License Bracket, (2) License Plate Protectors, Windshield Sealant, Windshield Installer Stick, Repro Radio Antenna, (2) Radiator Top Hoses, Radiator Bottom Hose, (4) Radiator Clamps, SS Fuel Line Pump-to-Carb, Fuel Line Clip Set, SS Fuel Line Tank-to-Pump and SS Vacuum Line Carb-to-Distributor, Spare Clutch Kit (pressure plate, disk, pilot bushing, throwout bearing, alignment tool), Spare Front and Rear Wheel Bearings and Seals (1 each), (2) Clutch Pivot Ball Retaining Clips, Clutch Offset Rod, and Release Bearing 10-11" Clutch, from LMC. The parts arrived in a reasonable time and I'm happy with the quality. Their catalog is worth the price of admission for it's excellent cut-away assembly drawings alone.
MAGNETIC OIL DRAIN PLUGS
http://www.magneticdrainplugs.com/
Why use a magnetic plug? Magnetic drain plugs attract and hold ferrous metal particles that circulate through your lubrication or hydraulic system. The particles may be a result of the following conditions: The constant flaking effect of normal wear of moving parts. Particles not removed by flushing after boring or machining. Chipping due to sub surface casting flaws. Minute component breakdown caused by stress usage. Usually it is a combination of factors that account for the presence of these particles that are abrasive and will cause excessive wear unless they are removed. Also an increase of material being collected on your magnetic plug may be early warning of a problem.
I have not purchased from this vendor, so I cannot offer recommendations, good or bad.
MAR-K QUALITY PARTS
http://www.mar-k.com/
We make Restoration and Custom Pickup Parts for Chevy, Ford, Dodge and Custom. Quality parts proudly made in the USA.
I've ordered the standard pine boards, standard cut. Hardware ordered consisted of three plain steel cross-members, plain steel bed strips and unpolished stainless steel bolt kit. Also got the stainless steel exhaust shield, so far. Because credit card orders must be shipped to the billing address and I didn't want that, I had to pay by check and wait for it to clear. When I received the shipment, I was very happy with the quality of the parts. "Made in America" is another plus for me. Everything fit well and that was a pleasant surprise considering the poor state of BillyBob's beat up bed sheetmetal.
MCMASTER-CARR SUPPLY COMPANY
http://www.mcmaster.com/
Over 340,000 industrial tool and supply products.
I've made several purchases from this vendor so far: small compression springs, cap screws, 18" Air Hose Stubs (3), 14 ga wiring, bolts, hex nuts, washers, spring nuts, blast media, rivets, binding screws, Carbon Steel Sheet (for welding practice, patch panels, etc.), Wire Wheels and Cups, Hole Saw, a Heavy Duty Cobalt Jobbers' Drill Set, drill guides, 5/64" Prick Punch, Carpenter's 4 pc Combination Square, and 3 pr Offset Aviation Snips (left, right and straight), 8 pt SAE and Impact Drive sockets, Lisle Tap Socket Set (8 tap sockets), Milwaukee Sawzall Reciprocating Saw and Extra Sawblades, SS Padlock Hasps (20), screws, hex nuts, and 12" bungie cords (10) 16" bungie cords (10), and 5/8" EPDM Heater Hose (20'). I ordered from their online catalog and the orders arrived in less than a week every time. I am happy with my purchases.
M.E.MILLER TIRE
http://www.millertire.com/
M.E. Miller Tire Company. Serving rural America since 1970.
I've ordered and received 6 Super Transport Tires 6.50x16, 6 Inner Tubes and a quart of Black Tire Paint from M.E. Miller. You have to phone your order in. They want to make sure you get the right purchase. The lady I talked to was knowledgeable and the order arrived in a little over a week. The paint was missing from the order and I received it in a couple of days after I informed them. I am happy.
MEMPHIS EQUIPMENT
http://www.memphisequipment.com/
We started Memphis Equipment Company in 1946, right after World War II and, from the first; we have specialized in army and military all-wheel-drive trucks and parts.
I have not purchased from this vendor, so I cannot offer recommendations, good or bad.
MR. G'S ENTERPRISES
http://www.mrgusa.com/index.html
We have over 3500 different hard to find items compiled into a 226 + page catalog. Each part is pictured actual size. This makes it easier to shop at home and feel you are ordering the correct fastener.
I have not purchased from this vendor, so I cannot offer recommendations, good or bad.
MY TOOL STORE
http://www.mytoolstore.com/
Mytoolstore.com originated in 1990 as a tool supply house in Las Vegas, Nevada under the name Tool Shack. In late 1996 www.mytoolstore.com was launched as one of the first online tool retailers. From a modest beginning www.mytoolstore.com has grown tremendously to become one of the largest online tool retailers; shipping tools to all 50 states and over 90 countries!
I have not purchased from this vendor, so I cannot offer recommendations, good or bad.
NAPA ONLINE
http://www.napaonline.com/
NAPAonline is the newest part of the National Automotive Parts Association (NAPA) community. NAPAonline works together with your local NAPA AUTO PARTS stores to meet your automotive aftermarket needs.
I've bought several items from the local bricks 'n sticks NAPA store. The online store database is getting better every day and they even have some items listed for BillyBob now. I've ordered a 12v Ignition Coil w/internal resistor, (6) AC R43 spark plugs, oil filter elements, a 12v voltage regulator, (12) AC R45 Spark Plugs, RuGlyde Tire Mounting Lubricant, Distributor Cap, Rotor, Points, Coil Wire, Fanbelt exhaust header gaskets, Spare Windshield Wiper, Vacuum Hose (3 paks 5/32" x 72"), Spare Gas Filters #3001 and Fuel Line Hose (1 pak 1/4" x 24") online and they've arrived in a reasonable time (about a week in most cases).
In early 2007, I ordered a carburetor, water pump and some vacuum hose. A few days later I got an email stating that since the carb was currently unavailable, the whole order had to be canceled. I will continue to order from NAPA online but they won't be my first choice.
NATIONAL BEARING SERVICE
http://www.nationalbearing.com/
National Bearing Service offers a complete line of bearings. Our experienced sales staff possesses all the skills necessary to assure the lowest prices, prompt deliveries and help in emergencies. Our large inventory combined with a positive sales staff, makes a perfect combination to provide our customers with a service unsurpassed in our industry. Please feel free to contact National Bearing Service for all your needs. National Bearing Service will buy your new unused excess inventory.
I have not purchased from this vendor, so I cannot offer recommendations, good or bad.
NATIONAL QUICK START
http://www.alternatorparts.com/
High Output Alternators - Chrome Alternators - High Amp Alternators - Car Audio Alternators - Alternator Parts - Upgrade Kits - High Output Conversion kits - Automotive Alternators - Alternator Repair kits - Truck Alternators - Starters - Starter Parts Chrome Starters - Quick Start Rebuild kits™ - Alternator Repair Manuals and more....
I ordered and was charged for some rebuild kits I wanted for my Delcotron alternators last year. They never arrived and I got busy and let the trail get cold. My guess is that the package may have been lost by the USPS. It wouldn't be the first time the Post Office let me down.
NORTHERN TOOL AND EQUIPMENT COMPANY
http://www.northerntool.com/
Northern Tool & Equipment is a major supplier of high quality products to do-it-yourselfers and businesses including automotive shops, grounds maintenance professionals, contractors and more. Northern's main product lines are generators, small engines, pressure washers and hand, air and power tools but it also carries a variety of hydraulics, pumps, trailer parts, seasonal equipment and much, much more.
I've placed six orders with Northern Tools so far. They included a floor jack, jack stands, creeper, wheel chocks, Mechanics Roller Seat, Air/Hand Operated Grease Gun, 20 x 30 Silver Tarp, a Mobile Shelving Unit, 2-1/2 ton Sissors Jack, Dust Pan, and Push Broom. Everything, 'cept the push broom, arrived in a reasonable time period and altho' shipping costs to South Florida from Minnesota on the weighty items wiped out any price advantage, I am pleased with the quality of the items I purchased thus far.
OLD RIDE
http://www.oldride.com/
Welcome to OldRide.com, your online community for classic car, classic truck and street rod information & classifieds. Buy, Sell and Browse Classic Cars, Classic Trucks, Muscle Cars and Street Rods in our classic car classifieds. Find the perfect project car or locate classic car and truck parts in our project cars and parts section.
I have not used this service, so I cannot offer recommendations, good or bad.
ONLINE METALS
http://www.onlinemetals.com/
Back at the end of the last century, in the year 1998, a couple of guys in Seattle teamed up to unite one guy's shed, crammed full of metals, with the other guy's interest in building websites. Wielding these two dubious assets, the team was able to put together an eCommerce website offering cut-to-size metals to the world! Thus, OnlineMetals.com was born.
I have not used this service, so I cannot offer recommendations, good or bad.
ORIGINAL AUTOMOBILE LITERATURE
http://www.autolit.com/
1900 to the present. Over two million pieces of Original literature in stock. World's largest selection of Original US and Foreign automobile and truck sales brochures, repair manuals, owner's manuals, parts books, and showroom items.
I have not purchased from this vendor, so I cannot offer recommendations, good or bad.
PAINLESS WIRING
http://www.painlessperformance.com/
Committed to innovative, quality wiring components for special interest vehicles.
I have not purchased from this vendor, so I cannot offer recommendations, good or bad.
PAINTSCRATCH
http://www.paintscratch.com/
PaintScratch specializes in original factory touch up paint for your car, truck or SUV. We sell paint pens, touch up bottles, spray cans and larger sizes up to a gallon. Touch up paints start at $14.95. Spray cans are $29.95. Paints are custom mixed and your color match is guaranteed. Phone orders are welcome.
I have ordered and received SS-Fern Green GS335 Interior Paint (1 Pint). I've mixed and applied about half of it to the upper cab interior under marginal weather conditions with a HVLP turbine. I am satisfied with the results. I've also ordered and received a pint of SS-Juniper Green 1618-H for refinishing BillyBob's wheels. Ordered a couple of spraycans of SS Surf Green 541/555 for more interior work and it is not a match for the Fern Green but there doesn't seem to be an easy way to get more of the Fern Green from the website interface. The cans work nicely tho.
PATRICK'S ANTIQUE CARS AND TRUCKS
http://www.patricksantiquecars.com/
Whether you are doing an engine rebuild to "stock", or dreaming of that hotrod you never had, you've just found the folks with the know-how and the goodies to make it happen.
I have not purchased from this vendor, so I cannot offer recommendations, good or bad. Patrick's son, Phillip, has visited the BillyBob site. He emailed me some advice based on his reading, sent me a catalog, and told me to call any time I wanted to talk Chevy trucks. I know I'll order something from Patrick's sooner or later. It's just a matter of time.
PERTRONIX INC
http://www.pertronix.com/
The Ignitor™ solid-state electronic ignition system was introduced by Per-Lux in the early 1970's. The Ignitor was designed to upgrade old points style distributors into a more efficient and dependable electronic system.
I have not purchased from this vendor, so I cannot offer recommendations, good or bad.
PFERD, INC
http://www.pferd.com/
Highest QUALITY TOOLS available! PFERD manufactures over 5000 tools. Try PFERD's Quality today!
I have not purchased from this vendor, so I cannot offer recommendations, good or bad.
POR 15
http://www.por15.com/
POR-15 Inc.® brings the powerful technology of polymeric isocyanate derivatives to the consumer rust prevention market for the first time, a technology vastly superior to competing products currently on the market. POR-15® is easier and less expensive to apply than epoxies, since it doesn't require mixing: and POR-15® dries to a high-gloss or semi-gloss finish like paint, except that it cannot he scratched or peeled off. Since POR-15® chemically bonds to metal, the underlying surface does not have to be sanded before application. As long as loose or flaking rust are removed from the surface, an application of POR-15® will not only cover up the rust and prevent it from spreading, but will also strengthen the underlying metal and seal holes by forming its own membranes.
I've purchased two clear coat products from POR-15 so far - Pelucid and Glisten PC. I got Pelucid to apply over a chrome powder coat. It was messy and it wrecked the powder coat. I might still be able to put it to good use elsewhere. Haven't used the Glisten PC yet, but plan to use it to protect the chrome bumpers that are starting to corrode some.
RESTORATION BATTERY
http://www.restorationbattery.com/
Restoration Battery is the leading supplier of OEM replacement batteries for classic cars and trucks. All batteries are licensed by the manufacturer and most are available in Lead Acid as well as Maintenance Free. We are a "small" business that offers personal service, friendly voices and lots and lots of knowledge. We've been in business for 30 years. Please contact us with any questions.
I have not purchased from this vendor, so I cannot offer recommendations, good or bad.
RESTORATION SPECIALTIES & SUPPLY
http://www.restorationspecialties.com/
Welcome to Restoration Specialties & Supply, Inc. Our company was started in 1974 as a small antique auto parts supplier. Since then we have grown into one of the leading suppliers of hard to find restoration parts. Our inventory includes: window channel, belt weatherstrips, rubber weatherstripping, rubber bumpers & grommets, sedan decking, bias, welts & windlace, fenderwelt, hoodlace, door panelboard & cowlboard, clips & fasteners, moulding bolts, finishing screws & washers, bumper bolts, trimming sundries, speed nuts, wire loom and many other hard to find antique auto parts. We now manufacture different window channel and belt weatherstrip kits under our trademark name "Topcat Whiskers". We can supply parts for most cars manufactured prior to 1980.
I've placed one phone order to Restoration Specialities so far. My order was for #1265 Clutch Truss Head 1/4"-20 x 1/2" screws. These fit in two locations on the upper hood latch assembly. The other six are "flat" clutch head screws and I ordered #1267 Clutch Pan Head 1/4"-20 x 1/2". These are wrong for this application and I will have to re-order. Restoration Specialties compounded my mistake by sending me #2367 hex type ba washer head black oxide 5/16" x 1-1/8" sheet metal screws. These aren't chebby truck fasteners but I'm shure I can use 'em somewhere so I'm not sending them back.
ROCKAUTO.COM
http://www.rockauto.com/
Nearly two years ago, the Taylor family -- three generations of automotive engineers who work on their own cars -- decided to build RockAuto.com as a family business. Jim Taylor, President of RockAuto, sums up his motivations: "I liked working on cars, but I didn't like going to auto parts stores. Except for sale items and some 'no brand' generic parts, prices were high. Often, after waiting in line, I'd learn the part I needed wasn't in stock and had to be special ordered--meaning another trip to the store, 'no return' terms and added delivery costs. And condescending questions like, 'How many doors does your Mustang have?' convinced me that there might be a world of useful parts out there that the chain store was unable or unwilling to give me access to. I wanted to jump across the counter and get a look at that part catalog myself."
I've ordered and received a few of '63 Chevy Pickup rebuilt Delcotron alternators for use on BillyBob from RockAuto. I've also ordered a voltage regulator and Delcrotron alternator parts - bearings, brush set, diode sets for rebuilding my growing pile of Delcotrons, NGK GR4 and B6S Spark Plugs, Spark Plug Wire Set, Points, Distributor Caps, Rotors, Condensers, spare water pump, oil filters and a pinion seal. Good prices and items arrived promptly. I will order for RockAuto again.
SANDERSON HEADERS
http://www.sandersonheaders.com/
When it comes to modifying your car, the last thing you want is parts that don't fit at all, or interfere with the engine, steering or, or chassis components. One of the big advantages of Sanderson Headers is that they're not "universal". Unlike many off-the-shelf brands, our products are built to work on specific motors in specific cars. We consider the fact that you'll be changing spark plugs and replacing starters, and will want power steering and air conditioning in your street rod or street machine. And since you're reading this, we figure you're probably doing a lot of the work on your car.
I have not purchased from this vendor, so I cannot offer recommendations, good or bad.
SHERWIN-WILLIAMS AUTOMOTIVE FINISHES
http://www.sherwin-automotive.com/
Sherwin-Williams Automotive Finishes has created this site to help you find the products you need at the best price and with the most complete supporting information. We now have over three thousand products available for sale over the web. That doesn't even count the staggering number of paint color combinations that are available.
I have not purchased from this vendor, so I cannot offer recommendations, good or bad.
SIERRA SPECIALITY AUTOMOTIVE
http://sierraspecialtyautomotive.com/
restoration of hydraulic brake and clutch components for antique and custom automobiles, trucks and other rare or vintage vehicles.
I have not purchased from this vendor, so I cannot offer recommendations, good or bad.
SKYWAY TOOL COMPANY
http://www.skywaytools.com/
Skyway Tools was founded by Douglas Gillis in Paradise, California in 1986 and moved to Chico, California in 1993. What began as a tiny shop with a few tools has become a thriving business carrying over ten thousand different types of tools and supplies.
I have not purchased from this vendor, so I cannot offer recommendations, good or bad.
STEELE RUBBER PRODUCTS
http://www.steelerubber.com/
Restoration rubber parts for GM, Mopar, and US independents.
I've web-ordered and recieved a 54-55 Windshield Weatherstrip Gasket from Steele so far. Delivery was timely. I finally got the windshield installed in October of '04. I'm happy with the gasket quality. The windshield and stainless trim does not fit perfectly but that is not the fault of the gasket. I believe the windshield is just slightly off and there's not anything the gasket can do to fix that. The only problem I had with Steele is that their instruction sheet was off for my application. When I quit trying to follow it to the letter, I had more success. In all fairness, they do state that the instructions are "generic".
STOCKTON WHEEL SERVICE
Stockton Wheel Service has been providing specialty wheel and custom wheel services for over 120 years. As specialist in custom wheel repair and widening, our craftsman breathe life back to damaged wheels and make your narrow OEM wheels FAT & TALL. Stockton Wheel carries a full line of new wheels in addition to our custom wheel services.
I have not purchased from this vendor, so I cannot offer recommendations, good or bad.
STOVEBOLT ENGINE COMPANY
http://www.stoveboltengineco.com/
Specializing in all GM inline six cylinder high performance parts. Here you'll find all the latest and greatest If there is a GM inline 6 performance part made you'll find it here.
I've ordered and received a Stainless Steel Fastener Kit for the 235 CI Engine from Tom Langdon's Stovebolt Engine Company so far. Tom and his wife were on vacation when I placed the order (in Florida as it turns out). They called me, on the road, by cell phone, to let me know they were on the way home and would get the order out as soon as they got there. Very nice folks and a pleasure to do business with.
TAYMAN ELECTRICAL
http://www.taymanelectrical.com
Sound Solutions For Classic Cars. we can get your original radio sounding just like it did when the car was new. FM can be added to that same radio so you can once again hear those doo-wops. If that's not enough, your radio can be converted to an AM/FM stereo with up to 88 RMS watts output.
I have not purchased from this vendor, so I cannot offer recommendations, good or bad.
TP TOOLS & EQUIPMENT
http://www.tptools.com/
If you're serious about automobile restoration, we've got the best selection of tools and equipment you'll find anywhere!
I have purchased a Blast Cabinet Gun, Small, 4-8 CFM, Sm Ceramic Nozzle/Jet Combo Pac, Lincoln SP 135 MIG Welder, Deluxe Welder Cart, Pro Auto Darkening Helmet, Welding Gloves, Welding Protector Sleeves, Crazy Cap, Nozzle Welding Gel, (2) Welding Jigs, a Welding Blanket 6' x 6', MIG Welding Nozzle, 3-pak MIG Welding Tips .023 Wire, 2 Spools MIG .023 Wire, Binks Dual Cartridge Paint Respirator, Showtime 80 Air Turbine HVLP Paint System with 20 oz Gravity Cup Paint Gun, and Automotive Finish Kit for Showtime 80 from TP Tools, Spray gun mini brush set, Quick mix spray cups, HVLP gravity gun holder, Viscosity cup, 1.6mm Turbine Nozzle Set, Binks Respirator Organic Vapor Cartridges and Prefilters so far, and am happy with the products. Delivery was prompt. Have had one small missing part problem but I haven't gotten around to notifing them about it yet. I will be ordering more from them in the future.
TM TECHNOLOGIES
http://www.tinmantech.com/
TM Technologies is a leading provider of tools and methods for metalworking enthusiasts and professionals around the globe.
I have not purchased from this vendor, so I cannot offer recommendations, good or bad.
TRUCK AND CAR SHOP
http://www.truckandcarshop.com/
Suspension components, steering parts, brake hardware, electrical (body & chassis), body panels, body patch panels, interior & exterior moldings, emblems, grills, wheel covers, literature, decals, window seals, weather stripping, interior & exterior lamps, stereos, and MORE ! ! !
I've made one aborted attempt at a purchase from this vendor so far. They have some items in their catalog that I haven't seen anywhere else and their prices are low. They are just inconvenient for me to purchase from currently. They are not yet set up for website sales for one thing. If you use a credit card, the shipping and billing address must be the same. This doesn't work for me at this time.
TUCKERS CLASSIC PICKUP PARTS
http://www.tuckersparts.com/
Tuckers Classic Pickup Parts carries a complete line of hard-to-find parts for your 1947-1987 Classic Chevy Pickup Truck. Our extensive inventory includes thousands of Reproduction, Original GM, NOS, and used parts.
I have not purchased from this vendor, so I cannot offer recommendations, good or bad.
U NEED A PART
http://www.uneedapart.com/
Welcome to U Need A Part, the Internet's largest Used Auto Parts Locator Service. We can help locate all of your Parts for American, Foreign, Cars, Trucks, Motorcycles and Big Trucks. Our 7000+ dealers have all types of Parts from Bumper to Bumper. Our Used Auto Parts Dealers have Used, New, Aftermarket and Rebuilt Parts for any vehicle on the road or off. By submitting your Parts Request, you can get multiple answers from Dealers all across the country with the most competitive prices around. Best of all we are open 24 hours a day, 7 days a week and it's FREE to all users.
I have not purchased through this service, so I cannot offer recommendations, good or bad.
UNITED SPEEDOMETER
http://www.speedometershop.com/
Today, we fix gauges. Recently we've been having some fun converting speedometers and gauge clusters from the cars that were nearly new when we started in business. We keep the graphics looking just like they did, but they have new electric movements and are calibrated for modern engines.
I have not purchased from this vendor, so I cannot offer recommendations, good or bad.
UNIVERSAL VINTAGE TIRE
http://www.universaltire.com/
In 1998, a new chapter to the Universal Tire story was written. Universal Tire was renamed Universal Vintage Tire and moved its operations to Hershey, Pennsylvania (the mecca of collector car enthusiasts). UVT's nearly six acre property includes a new showroom and warehouse for prompt UPS shipments. In 2000, the size of the warehouse was doubled and 2001 marked the return of Universal brand All-White clincher high Pressure tires. At Universal Vintage Tire, we are continuing to build an even larger inventory. Many tire sizes, previously out of production are now back in stock. Several new products such as Classic wide whitewall radials have been added to our already famous Universal, Lester, Dunlop, US Royal and Firestone tire lines.
I have not purchased from this vendor, so I cannot offer recommendations, good or bad.
US BODY SOURCE
http://www.usbody.com/
Quality Fiberglass. Your online auto body panel supplier.
I have not purchased from this vendor, so I cannot offer recommendations, good or bad.
U.S. RADIATOR
For over 30 years, U.S.Radiator Corp. has been in the business of providing cooling system confidence to car builders and travelers world-wide. Having the local Mojave Desert and Death Valley as a natural testing ground, a line of high performance radiators appropriately named, The Desert Cooler®, was developed in the early sixties. Distributed through a network of performance minded dealers and engine builders, The Desert Cooler® has become the radiator of choice for performance car enthusiasts world wide. Whether it's from Paris to Dakar or Los Angeles to Las Vegas, The Desert Cooler® offers the maximum in high performance cooling.
I have not purchased from this vendor, so I cannot offer recommendations, good or bad.
VINTAGE AUTO PARTS, INC.
http://www.vapinc.com/
We generate various lots of NOS (New Old Stock) antique, obsolete and specialized parts of all different lines that we sell at large discounts to interested buyers. Some lots are just a few pieces for one particular make of car or truck, and others could be substantial lines of parts for all models cars and trucks in large quantities.
I bought a "NOS Oil Bath Air Cleaner" from Vintage Auto Parts, Inc. The air cleaner arrived about a week after I ordered it. The other item I ordered, a shiftbox rebuild kit, did not arrive and I see it's been removed from their website so I'm guessin' I won't get it. The air cleaner was 'posed to ship with an adapter to fit 2-1/4" carbs - It didn't and I do need the adapter. The air cleaner looks brand new on the inside but the outside has several dents and the paint and decal are "scuffed up" . . . Not exactly my definition of NOS (New Old Stock). I'm a bit disappointed but Vintage Auto Parts carries a lot of stuff I haven't seen anywhere else so I will risk ordering from them again, if needs require it. Updated 05.23.2002 a couple of weeks ago when I had the need to order something else from Vintage Auto Parts, Inc., I asked them for the air cleaner adapter and they threw it into the new order at no charge. The other part I ordered was a NOS headlight switch. It's in very good shape and they aren't making these anymore! My opinion of Vintage Auto Parts has improved a lot since my first order.
VINTAGE SPEED
http://www.vintagespeed.com/
Your One Stop for 50's - 60's New and Used Hot Rod Cars-- Parts--and vintage fuel systems.
I have not purchased from this vendor, so I cannot offer recommendations, good or bad.
WAYTEK WIRE
http://www.waytekwire.com/
Waytek Inc. has been supplying wiring materials since 1970. We are located in a southwestern suburb of Minneapolis, and distribute electrical products throughout the United States, Canada, Mexico, and internationally.
I have not purchased from this vendor, so I cannot offer recommendations, good or bad.
WHITE POST RESTORATIONS
http://www.whitepost.com/
White Post Restorations has a unique brake cylinder sleeving and rebuilding service, the ultimate solution to your brake cylinder problems.
I have not purchased from this vendor, so I cannot offer recommendations, good or bad.
WILLIAMSONS INSTRUMENT SERVICE
http://www.williamsons.com/
Williamson's Instrument Service is a repair facility for the full mechanical and cosmetic restoration of Speedometers, Tachometers, Clocks, Gauges, Glass and Panels from Automobiles, Trucks, Boats, Fire Trucks, Farm Equipment etc.
I have not purchased from this vendor, so I cannot offer recommendations, good or bad.
WIPERMAN.COM
http://www.wiperman.com/
Home of Ficken Wiper Service. Specializing in Trico Vacuum Wiper Motors We Will Rebuild Your Trico Vacuum Wiper Motor! We have many New Old Stock and Rebuilt Units. We also stock many Wiper Arms, Blades, Refills, Wiper Transmissions, On/Off switches, Washer Pumps & Trico Advertising Most anything Older, American and Wiper Related!
I have not purchased from this vendor, so I cannot offer recommendations, good or bad.
YNZ'S YESTERDAYS PARTS
http://www.ynzyesterdaysparts.com/
Concours quality wiring harnesses since 1970. The harnesses we manufacture are exact duplicates of the original. We use original type lacquer-coated braided wire. Wire colors will match your factory specs perfectly, and all original style metal terminals are soldered when applicable. Harnesses are covered on our own cloth braiding machine or with auto loom like the original.
I have not purchased from this vendor, so I cannot offer recommendations, good or bad.
ZERO RUST
http://zero-rust.com/
Zero Rust has been field tested for over 12 years, solving rust and corrosion control problems for many different users and in a wide spectrum of industries. Look through our website for examples of its wide acceptance and numerous applications.
I have not purchased from this vendor, so I cannot offer recommendations, good or bad.
OTHER RESOURCES
AMERICAN TRUCK HISTORICAL SOCIETY
http://www.aths.org/
ATHS is made up of people who love old trucks and the history of trucking--restored old trucks and unrestored old trucks; old trucks that run and old trucks that don't. ATHS collects and preserves the dynamic history of antique trucks and the trucking industry. We currently have over 22,000 members in the US, Canada, and twenty foreign countries. Once a year we hold a national convention and antique truck show which features from 400 to 700+ antique trucks (25 years old or older). One benefit of membership is a subscription to our 48-page, bimonthly magazine, Wheels of Time.
ANTIQUE AUTOMOBILE CLUB OF AMERICA
http://www.aaca.org/
The Antique Automobile Club of America, founded in 1935, is the world's largest automotive historical society with over 60,000 members and 400 regional clubs worldwide. The AACA is dedicated to perpetuating the memories of early automobiles by encouraging their history, collection and use.
ANTIQUECHEVYTRUCKS.COM
http://www.antiquechevytrucks.com/
Formerly AntiqueChevyTrucks.com, this is now the new home of the classic Chevrolet and GMC pickup trucks from 1934- 1998. We have expanded our line-up to add more information to make this site truly your one-stop shop for information pertaining to classic Chevy/GMC trucks. The trucks of these eras are exponentially increasing in popularity, so much so that the couple that has the family truck rusting away in their yard for decades is not willing to sell the vehicle.
ANTIQUE TRUCK CLUB OF AMERICA
http://www.antiquetruckclubofamerica.org/
Welcome to the Antique Truck Club of America. founded in 1971, the ATCA is an organization of persons who own, or have interest in antique commercial vehicles and who wish to promote the preservation, restoration and operation of antique commercial vehicles.
AUTOBODY101.COM
http://www.autobody101.com/
This is a great information site for do-it-yourselfers to find out about paint and bodywork. Lot's of free articles, videos for sale, forums and more.
AUTO RESTORER ON-LINE
http://www.autorestorer.com/
"Auto Restorer On-Line" is a collection of auto restoration material submited by the many visitors to this web page. You are encouraged to share your ideas and experiences to better enhance this site for all of us.
CAR TALK
http://cartalk.cars.com/
Whose Web site is this??? This is the Web site of Car Talk, starring Tom and Ray Magliozzi (aka "Click and Clack The Tappet Brothers").
CARS AT CARLISLE
http://www.carsatcarlisle.com/
For more than two decades Cars at Carlisle has presented an unparalleled schedule of quality automotive and non-automotive antique and collectible events. Cars at Carlisle' events afford manufacturers, distributors and vendors direct access to the ever-popular automotive and antique collector hobbies. Carlisle provides car enthusiasts the opportunity to purchase collector cars, restoration parts and memorabilia, as well as an ideal venue to showcase or sell their cars. Carlisle offers antique collectors an unsurpassed array of fine antiques and collectibles. Spring, Summer and Fall Carlisle Collector Car Swap Meets & Corrals feature thousands of vendor spaces filled with automotive parts and accessories for all makes and models as well as memorabilia and cars for sale by owners.
CHEVYTALK.COM
http://www.chevytalk.com/
Online forums for the Chevrolet enthusiast.
CHEVYTRUCKS.ORG
http://www.chevytrucks.org/
Your resource for chevrolet truck information.
CHEVY 235 GUY
http://chev235guy.blogspot.com/
Chev 235 guy ~ Let's talk vintage Chevrolet...
THE CLASSIC CAR-NECTION
http://www.car-nection.com/chevtruk.htm
Your source for collector car information.
CLASSIC TRUCKS MAGAZINE
http://www.hotrod.com/classic-trucks-magazine/
Classic Trucks' Core market is currently working on or considering the restoration of a vintage pickup. Each month Classic Trucks generates technical upgrading, how to features for the do-it-your-selfer presented with detailed photos. Cosmetic modifications are introduced with identified aftermarket components to aid the enthusiast with proper part selection. Photo coverage of classic truck shows is of primary editorial importance.
THE CLASSIC TRUCK SHOP
http://www.classictruckshop.com/
Providing information services to the classic truck community.
CRUISIN' STYLE MAGAZINE
http://cruisinstyle.com/social/
CRUISIN' STYLE MAGAZINE is an independent magazine published monthly. Rods, Customs, Street Machines and Race News covering Texas, Louisiana, Mississippi, Alabama, Georga, Florida and South Carolina.
GARAGE JUNKIES FORUM
http://www.garagejournal.com/forum/
Welcome to Garage Junkies. This site is dedicated to the garage enthusiasts of the world and everything garage related.
GMC CCKW
http://www.cckw.org/
The GMC CCKW website is a great place for fans of the WWII Jimmy "Deuce and a half" trucks to hang out. There's an active forum too.
GREAT RACE
http://www.greatrace.com
Rally-racing street legal vintage cars 170 to 480-plus miles each day on sporty back roads, over all kinds of terrain and in every kind of weather imaginable, The Great Race is a race with a goal other than speed. Best described as a timed endurance rally-race, the smallest error or mechanical malfunction can end a team's chances of winning.
HEMMINGS MOTOR NEWS
http://www.hemmings.com/
Hemmings Motor News is the world's largest antique, classic, vintage, muscle, street rod, and special interest auto marketplace with 800 to 900 pages monthly of advertising catering to car collectors, hobbyists, and restorers.
HOBART INSTITUTE OF WELDING TECHNOLOGY
http://www.welding.org/
Over 80,000 people have successfully completed Hobart Institute of Welding Technology courses. We have trained students both male and female from all over the world ranging from the individual student fresh out of high school to employees of Fortune 500 companies.
INLINERS INTERNATIONAL
http://www.inliners.org/
Inliners International was founded in 1981 by three people who shared the love of inline engines. It was their desire to form a club that would bring other inline lovers together so they could share their experiences with these unique, sometimes forgotten engines. Initially, the club devoted itself almost exclusively to the 216/235/261 Chevys and the 248/270/302 GMCs. Today, the club has a much broader appeal and welcomes fans of 4, 6 or 8 cylinder inline engine of all makes. So whether you are an admirer, collector, racer or mechanic; whatever level your interest in vintage inline engines, Inliners International is the club for you.
KELLEY BLUE BOOK
http://www.kbb.com/
In 1993 Kelley Blue Book made its initial venture into the consumer marketplace, by publishing a Consumer Edition of the Blue Book. It features 15 years of used car values on over 10,000 models of cars, trucks and vans and is available in bookstores, auto supply stores and other locations.
METALSHAPERS ASSOCIATION
http://www.allshops.org/
This site began as the Metalshapers Association a world-wide group of people teaching, learning and sharing information about many forms of metal forming. Coach building, blacksmithing, auto body repair, tinsmithing, silversmithing are but a few of the disciplines. As a natural progression, we've added specific discussion groups and have begun to encompass many other shops related interests, such as drag racing and other forms of racing, aircraft, woodworking and more.
OLD GMC TRUCKS
http://www.oldgmctrucks.com/
This site is dedicated to old GMC trucks of all sizes, styles and types. Whether you own a GMC or just like em, this is the place for you. This site has more than you ever wanted to know about Jimmys and is maintained by Rob English (alias "OldCarKook", alias "Max Grabowski").
OLD IHC
https://oldihc.wordpress.com/
Welcome to OldIHC.org, the world's largest web site specifically dedicated to the older IHC trucks. The Old International Harvester Truck Special Interest Group fosters the enjoyment and fun of restoring antique IHC trucks. Through the OLD IHC SIG, IHC truck restorers, owners and other interested parties can exchange information while maintaining the camaraderie and good fellowship of an online-internet based truck owners group.
ROADTRIP AMERICA
http://www.roadtripamerica.com/
Since 1994, RoadTrip America® has been the Web's premier destination for North American road trip information. In addition to travel resources, RTA provides advice on how to work on the road and how to stay connected to the Internet while traveling. RTA provides tips for solo travelers, couples, disabled travelers, international visitors, and families traveling by car, motorcycle, bicycle, or recreational vehicle. The Great American RoadTrip, RTA's interactive forum, is a community where road trippers share and seek advice and inspiration.
ROADTRIP USA
http://www.roadtripusa.com/
Click on the route number or name to access driving tours across more than 35,000 miles of classic blacktop. Jamie Jensen has been immersed in road-trip culture from an early age, thanks to a childhood spent drinking drive-in milk shakes and riding roller coasters in Los Angeles--before everything was torn down. After dropping in and out of college, Jamie took a three-year odyssey hitchhiking around the country, making hay in Kansas, painting houses in Boston, sailing boats on the Chesapeake Bay, and living in the storeroom of a Manhattan music studio. He returned to California and earned a degree in Architecture from the University of California, Berkeley, then moved to England, where he began writing about America. He now lives with his wife Catherine and restless twins Tom and Alex in Davis, California, at the west end of US-50.
RUSTY IRON WORKSHOP
http://www.rustyiron.com/
Antique Stationary Engines, Tractors, Machinery, Collecting, restoring, display, technical tips.
SECOND CHANCE GARAGE
http://www.secondchancegarage.com/
Classic Car Restoration. Antique Car Restoration. Old Car Restoration. Whatever you call it, this site is where you go to learn about restoring your classic, antique or old car.
SEMA ONLINE
http://www.sema.org/
SEMA, the Specialty Equipment Market Association, strives to keep everyone up to speed on what's new in automotive specialty and performance products.
SHELLEY THE TRUCK WITH A HEART
http://www.truckwithaheart.com./
Scott Sensing's 1952 Chevy pickup truck Shelley became the most famous classic truck in America when television, radio, and newspapers carried the story of the Alaska drive nationwide. Her 2001 jaunt down historic Route 66 brought even more attention.
THE FORGOTTEN 261
http://www.97330.com/Chevy_261/261_6.html
Between 1954 and 1962, Chevrolet produced their famous full oil pressure 235 cubic inch six-cylinder in trucks and it soon proved to be one of the greats among engines. However, at the same time a lesser known "big brother" to this base engine was being used. This was the quality built 261 cubic inch six cylinder! This 261 was available only in 2-ton (6000 or C60 series) trucks and school buses. During it's early years (1954-57) it was an extra cost option above the standard 235 six-cylinder.
THE GARAGE FORUMS
http://www.garageforums.com/
Are you new here? Check out The Garage Forums for engaging conversation and images of amazing garages. Register for FREE today and enjoy all the benefits of a member.
THE JALOPY JOURNAL
http://www.jalopyjournal.com/
It's the little pages of our era... Learn from the best, teach the youngest, and meet your pals in the internet's biggest garage. Our tech articles are greasy, our members are hoodlums, and these editorials still aren't for sale.
THE OLD CAR MANUAL PROJECT
http://www.tocmp.com/
First and foremost, the Old Car Manual Project is a library: a central place where anyone can come to get the information they need. How this happens is by volunteers scanning their hard-to-find documents into a digital format, so that everyone can have access to the information in them.
THE STOVEBOLT PAGE
http://www.stovebolt.com/
The Stovebolt Page Philosophy: We're all about sitting on our virtual running boards and swapping stories, advice and lies about our old trucks. Now that you've stopped by, why don't you wander through the different areas of the garage. We've got photos of all kinds of old trucks, advice on restoration techniques, where to get parts for trucks and books about trucks, and a bunch of other info about old trucks.
THIS OLD TRUCK MAGAZINE ONLINE
http://www.vintagetruckmagazine.com/
This Old Truck magazine (ISSN 1068-1744) is now called Vintage Truck Magazine and is published bi-monthly by Antique Power Inc., 529 Woodhaven Tr., Yellow Springs, OH 45387.
TRUCKWORLD ONLINE
http://www.truckworld.com/
TRUCKWORLD ONLINE! is a truck and sport-utility vehicle enthusiast e-magazine that features custom 4x4s and sport-utility vehicles (SUVs), trick street trucks, off-road trail machines, low-riders, event and show coverage, new vehicle road tests, NASCAR Super Truck and SCORE off-road racing (including Trophy Trucks), monster trucks, how-to tech, project-truck build-ups, performance tips, truck sources, new product reviews, classified ads, an event calendar, truck club information, industry news, four-wheel-drive travel/adventure, web design, and much more.
TRUCK RESTORATION
http://www.jefflilly.com/truck-restoration/
If you don't have the time or inclination to restore your ride yourself, Jeff Lilly Restorations can help.
As you look through our website you will see a very organized facility with quality techniques rarely seen. Most of our customers will keep their special ride the remainder of their life and then pass it on to a family member that will also enjoy it. When you build with this criteria you build for the long haul and no tiny detail gets left undone. Our team of builders are " Masters " in the trade, no beginners here! When you choose us you are getting a professional, well thought out 60 minutes for every hour you pay for.
UPHOLSTER! MAGAZINE ONLINE
http://www.upholster.com/
An Online Magazine Dedicated To The Continuance Of Excellence In The Upholstery And Reupholstery Trades, Through The Open Sharing Of Information. We Encourage The Purchase And Manufacture Of High Quality Seating Whose Endurance Conserves Our Natural Enviroment and Ensures The Survival Of Our Skills.
VEHICLES OF VICTORY
http://www.vehiclesofvictory.com/
Welcome. This site is dedicated to the preservation and recognition of true classics - the 1941 -1945 Chevy 1 1/2 ton and GMC 2 1/2 ton military trucks. This site is designed to give other enthusiasts a resource for trucks, technical information, specs, and a variety of promotional items to show their Historic Chevy and GMC Military Vehicle (MV) pride! Website Created and Maintained by Bob Muller.
VINTAGE CHEVY VAN CLUB
http://www.vcvc.org/
The Vintage Chevy Van Club was formed in January of 1998 to help bring together owners and enthusiasts of the 1964-1970 Chevy and GMC vans. In the beginning, the website consisted of a few gallery pages, a news page, and information on becoming a member. Who would have thought that it would grow into the leading resource for information and the largest communal gathering for early vans of any make; with members from nearly every state in the U.S., as well as Canada, Norway, and Finland? Through the the dedicated efforts and vital support of its members, the Vintage Chevy Van Club is growing at a rate very much unexpected by most.
VINTAGE CHEVROLET CLUB OF AMERICA
http://vcca.org/
Welcome to the Vintage Chevrolet Club of America's Web Site. We are a non-profit organization dedicated to the restoration and preservation of Chevrolets from 1911 to 1977.
HOW TO TIPS
AD BEDWOOD
http://www.chevytrucks.org/jeff/
tech/bedwood/bedwood.htm
This is an excellent how-to article on Advance Design Pickup Bedwood authored by Jeff Nelson with additional commentary by Eric A. St.Phillips and posted on Jeff's Website.
AD SEAT FRAME REMOVAL
http://www.laroke.com/larryk4674/
tom_caperton/seat_removal.pdf
When Tom Caperton documented the removal/replacement procedure for an AD seat, he offered it for personal use or posting on a website. I took him up on the offer right away and have finally gotten it posted to the BillyBob site as a Adobe Acrobat PDF file. Thanx again, Tom. If your browser is not equipped to view PDF files, the free reader plug-in program can be downloaded here.

BOB STORYS PAINT FAQ
http://bobstory.tripod.com/faq.html
Bob Story's Automotive Paint Frequently-Asked Questions.
BRAZING BOOK ONLINE
http://www.handyharmancanada.com/
TheBrazingBook/bbook.htm
This book contains a significant amount of information on the process of brazing. It was created by Handy & Harman to assist both the novice brazer and the seasoned engineer. For years, this publication has been well received and a very useful tool. This publication has been updated to incorporate the many changes that have occurred within the industry. Brought to you by The Precious Metals Fabrication Group.
CARBURETOR TUNING THE SCIENTIFIC WAY
http://www.bob2000.com/carb.htm
or How to Tune Your Holley Carburetor and Other Fuelish Ramblings By ASE Certified Master Auto Mechanic, Engineer, and Inventor, Gerard Forgnone.
INSTALLING HUBCAP CLIPS
http://www.smokeyspage.com/
HubcapClipInstallation.html
This howto article by Smokey Culver used to be located on his website at http://sites.netscape.net/chrlscul/clipinstall . When Netscape discontinued website hosting, it was lost. I asked Smokey if I could host a copy of the article. Smokey consented but did not have a copy. Time passes . . . Cruzin' the back alleys of ole truck sites I stumbled over a copy of Smokey's article. I didn't hesitate to post a copy to the BillyBob site. It's a great article and I don't want to chance losing it a second time. Thanx again, smokey!
Great news! Smokey Culver is back online with his own webpage at http://www.smokeyspage.com/Home.html. For those of you who have linked to Smokey's hubcap article on the BillyBob site, it's still there, but the link on this page has been redirected to Smokey's new site 'cause there's more good things to see there than just the hubcap article!
OOPS! Looks like Smokey's page has disappeared again so the link now points back to the mirror on the BillyBob site.
SOUP THAT CHEV!
http://www.selectric.org/55chevy/soup.html
May 1955 Hot Rod magazine article about hotrodding the old stovebolt six scanned by Jim Forbes and maintained on his website. Each page is about 250kb, so it'll take a while to download over the phone. Jim knows a lot about the old chevies, 'specially the Task Force series.
THREE-WIRE ALTERNATOR ADVANTAGES
http://www.madelectrical.com/
electricaltech/onewire-threewire.shtml
M.A.D. Enterprises does not sell alternators, and we never have. Therefore we have no reason to slant this story. However, advantage of the THREE-WIRE system over the ONE-WIRE system is exactly why we made our part#ALT-1, alternator wiring kit, beginning back in 1989. (Rather than simply sell ONE-WIRE alternators–which would have been very easy for us to do.) The THREE-WIRE advantages are even more important in recent years–More powerful alternators are often installed on Hot Rods and they must support a more power hungry electrical system.
OTHER RESTORATION JOURNALS
1954 CHEVROLET ADVANCE-DESIGN TRUCKS
http://www.1954advance-design.com/
This website is a chronicle of the history, events, and activities related to my interests-in and ownership-of Chevrolet Advance-Design Trucks. This excellent site is authored and maintained by Tim Lederman.
ALAN HORVATH'S 54 CHEVY
http://alanhorvath.com/54chevy/index.php
I found this 1954 Chevrolet pickup truck for sale on the internet ... talked with the owner on the telephone a dozen times ... bought it and had it transported from Humble, Texas to Milltown, New Jersey ... it arrived on January 18th, 2003. Alan's ride is mildly a rodded award winner. He documents his improvements and there's lots of good info here for the restorer and rodder alike.
BURGIE'S 1964 CHEVY C60
http://www.chevyc60.com/index.htm
The main purpose of my site is to detail the restoration process of my truck. Like most enthusiasts, this is a hobby for me and I work on my project as time and money permits. More often than not this translates to the old adage of "when you have the time you don't have the money...and when you have the money you don't have the time". Another purpose for my site is to share historical data, technical specifications and restoration information about 1960-1966 Chevy medium duty trucks. I use the internet frequently for research and participate in several discussion forums; however, as mentioned above, information on medium duty trucks is somewhat limited. As time goes on I hope that this site will become a resource for other medium duty truck enthusiasts.
DEVE'S TECHNICAL NETWORK
http://devestechnet.com/Home/Index
Welcome to Deve's Antique Chevy Trucks! My focus is on Chevrolet's Advanced Design Series Trucks. The years covered are late 1947 through early 1955. You can read about the history of these trucks on my History page. This site is my attempt at documenting my passion .. restoring these trucks. In this pastime, its the journey, not the destination so I am in no hurry to complete my projects, rather, I am concerned with quality and attention to detail. Part of this quest is to meet others with the same interest, lining up good vendors for getting the necessary parts, and carefully documenting each procedure so that I remember and so that others may benefit. Within these pages you will find many items of interest including How-To's on the more difficult aspects of restorations, Listing of Parts Resources, Tool Vendors and many links related to the restoration process. This excellent site is maintained by Deve Krehbiel.
RAY BUCK'S CHEVY ASYLUM
http://www.chevyasylum.com
This is the place where Chevys are safe and secure (and cared for by the mentally ill, the aged, the poor, etc..)
GM FUTURLINER RESTORATION PROJECT
http://www.futurliner.com/
After spotting Bob Valdez's Futurliner (converted into a motor home) while on a business trip in Palm Springs, California in January of 1998, Don Mayton knew he had to have one. He soon realized, however, that owning or restoring one would not be within his financial means. His search led him to the National Automotive and Truck Museum in Auburn, Indiana where they not only had one awaiting restoration, but they had a "Partner Program" where he could take it home to restore and they would help raise the estimated $200,000 to complete it. The museum owns the Futurliner and Don and his crew of volunteers are content to be part of an effort to bring the Futurliner back from the past.
JIM'S 1959 CHEVROLET APACHE 32 LONGBED STEPSIDE PICKUP
http://www.59apache.com/
Thanks for visiting my Web site dedicated to the restoration of my 1959 Chevrolet 32 Apache longbed stepside pickup truck. This is a step-by-step off-frame restoration by Jim Karras and his wife, Sabrina. Unlike BillyBob, they will get their restoration done in about a year's time. What this old truck does have in common with BillyBob, besides being an old stovebolt, is that it's a family heirloom.
MATT'S '41 BUICK
http://www.harwoodperformance.bizland.com/
1941buick/index.html
Welcome to my project: the complete ground-up restoration of a 1941 Buick Century Sedanette. This is a relatively rare car; only about 5500 of them were built in 1941. Who knows how many have survived the past 61 years? If you have one, please let me know! I'm starting a registry and would like to add yours to the list.
I noticed that a few visitors to BillyBob's shadetree were coming from Matt's garage. I followed them back there and spent a few days learning some new things and thoroughly enjoying myself learning about Matt's Buick and his restoration philosophy. If you like BillyBob's shadetree, you'll like Matt and Julia Harwood's garage too.
MAYCH
http://www.pattson.com/maych/
Maych is a 1972 GMC Sierra Grande 1/2 ton pickup. He is named for my father, Martin Hamilton Patterson. I was 2 years old when my father died in an automobile accident, so I never really knew him. But for as long as I can remember, when friends or relatives spoke of my father, they would always call him Maych. It was not until I was a teenager that I learned Maych was not my father's given name, but was what a youngster heard when his initials, M. H., were spoken with the sweet southern accent of my youth. This site is maintained by Johnny Patterson and is authored in much the same style as the BillyBob site . . . or maybe the BillyBob site is in the same style as the Maych site. Heck, it don't matter none. The point is, if you like the BillyBob site, you'll like the Maych site.
http://www.oldsub.com/
Part way through the 1955 model year GM built the last Advance Design and New Design trucks ending series begun mid 1947. The 1st-series 1955's are the last and best of the series in my humble opinion. This all started when I bought the OldSub, but life never stays simple, and now I'm also working on a 1954 Chevrolet half-ton pickup for my wife, and a dually extended cab for me.. On these pages you'll find my thoughts about these projects and a chronicle of my progress and adventures. These projects are Rodstorations, which basically means a performance oriented updating of drive train, brakes and suspension, while repairing and mildly customizing the interior and the external appearance of the vehicle. This wonderful wonderful is authored and maintained by Steve Hanberg.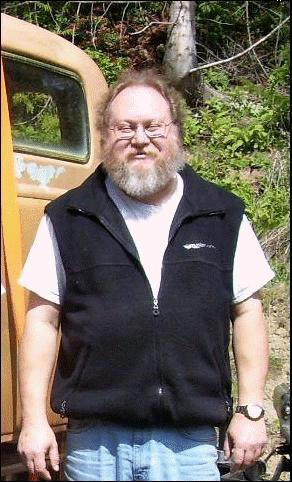 Update 01.05.2011 On January 3, Steve's friend Jeff Erickson (who goes by the screename "Rustednuts") informed the OldGMCtrucks forum that Steve had passed on after a long bout with cancer. He was actually holding his own with the cancer but it appears that a staph infection got him in his weakened state. Steve was known far and wide on the many truck boards and, again, I miss an Internet friend that I never got the chance to meet, face to face. Thanks to Joe Mendola for the photo of Steve.
THE 1938 FORD PICKUP PROJECT
http://www.rasloto.com/
Welcome to the 1938 Ford Pickup Truck Project Site. I am in the process of converting my 1938 Ford pickup from a rusty old farm truck with a frozen engine to a daily driver -- on a budget. I'm just a regular working guy and can't afford to have a truck "commissioned" like those magazine trucks. To save money, as well as have "fun", I am doing as much of the work as I can, which so far is all of it. This site documents my progress, trials, tribulations, etc., and lets me share my experiences. It has helped me make a lot of new friends, many going down the same road as I am. By Ron Sloto.
http://community-2.webtv.net/TOMPOT/TOMS1949CHEVYPICKUP/
You'll never see a more beautiful stovebolt engine than the one in Tom's Retro-Rodded truck an' he's got the tropies to prove it. When you visit this site, James Dean is in the building! The site was authored and maintained by Tom Poterack.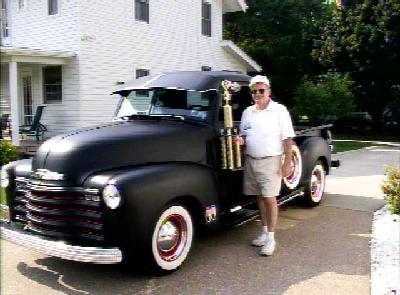 Update 12.31.2004 On December 31, Tom Caperton sent a message to the Old Chevy Trucks list: Just wanted to let everyone know that list member Tom Poterack passed away on December 22 after a long bout with cancer. I got an email this morning from Tom's wife, Judy, and she asked me to pass this along. Most of you will remember Tom as the owner of "Tom's Z49", his trophy-winning '49 Chevy pickup. Tom was a true gentleman, and will be greatly missed.
Update 11.24.2007 Tom's Z49 website has gone off the grid. I found a backup copy at the wayback machine (archive.org) and now the link points there.